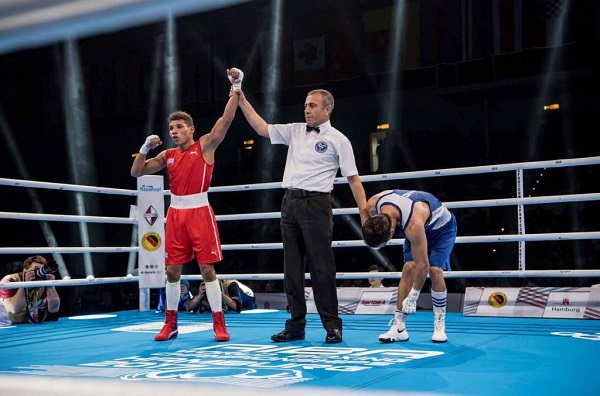 Sancti Spiritus boxer Yosbany Veitía was selected as one of Cuba's top ten athletes of 2017 due to his gold medal at the Hamburg AIBA World Boxing Championships. In an interview with Escambray, Veitía had expressed: "Every tournament is a unique experience. With this result people look at me differently, referees, judges, opponents … At the Olympics, I'm sure I'll bring a medal, it's just a matter of being patient."
Boxer Julio César La Cruz and pole vaulter Yarisley Silva were announced as the best athletes of the year, according to the National Institute of Sports, Physical Education and Recreation (INDER, for its Spanish acronym).
At a press conference, executives of that organization also said that Cuban Domadores were awarded the Team of the Year distinction, while boxing was selected as the most outstanding individual sport of the last twelve months.
Likewise, beach volleyball player Lidianis Echeverría distinguished in collective sports for women, while baseball player Alfredo Despaigne won the men's category.
The prize for Rookie of the Year was given to pugilist Andy Cruz, because of his excellent results, including the world title in Hamburg.
Similarly, INDER announced the 10 most outstanding athletes of 2017, with mention for two women and eight men from five different disciplines.
Present in the list are the boxers Erislandys Savón, Yosbany Veitía, Yohanys Argilagos, Ronniel Iglesias, Lázaro Alvárez, all with magnificent performances in the last world event.
In addition, cyclists Arlenis Sierra and Marlies Mejías were included, as well as gymnast Manrique Larduet, rower Angel Fournier and Greek wrestler Oscar Pino.
Among the youth, athletics outstand, with the selection of javelin thrower Marileysis Duarthe and triple jumper Jordan Diaz as the most prominent.
The category of disabled athletes was dominated by long jumpers Suslaidys Girat and Luis Felipe Gutiérrez, while sprinter Omara Durant also won recognition.
In the category of referees, the distinction of best national referee went to Raul Rojas, of athletics, while his baseball colleague, Jorge Niebla, took the award in the international sphere.
Finally, Eric Hernandez, a record player in the field of ball possession, won a new award in Special Sports.
The selection of the best athletes and referees of the year in Cuba is done through a vote in which specialists from INDER, the sports press and the Young Communist League participate.
The award ceremony will take place next Saturday, December 23 in Havana.
With information from Prensa Latina