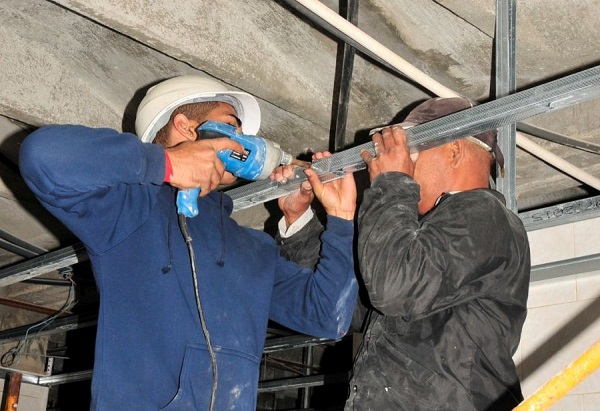 More than 4 million pesos have been invested to date in different health institutions in the Cuban central province of Sancti Spiritus. Almost all of the centers affected by Hurricane Irma have been recovered.
When they finish putting the last slabs, secure the tiles of the false ceiling and finish all the veneers, the Maternity Hospital, attached to the Camilo Cienfuegos Provincial General Hospital, will have a modern surgical unit, which stands out today as a remarkable investment.
Two operating rooms — and the same number for performing DCs — a room for joint sojourn and consultations integrate this unit, which also has new hydraulic, sanitary and medical gas systems.
According to Gonzalo Crespo Rodríguez, Deputy Director of Investments, Maintenance and Electromedicine of the Provincial Directorate of Health, in the aforementioned hospital facility some other works have also been completed, such as consultation areas, the assembly of a water treatment plant for carrying out hemodialysis, and a water purification plant.
Moreover, the kitchen-dining room —where hydraulic and sanitary networks have been replaced—, it is also taken care of, investment that should end at the beginning of next year.
Nevertheless, reconstruction works have also involved family doctors' offices, community pharmacies, dental clinics and municipal hospitals.
"In regard to repair and maintenance, more than 500 construction facilities have been completed. Among them, the Trinidad's hospital stands out, where the surgical unit, the sterilization center and the surgery room were remodeled, " Crespo Rodríguez said.
"In spite of the damages caused by Hurricane Irma — 80 institutions of the sector were affected—, we have already managed to recover 74. For the rest to be completed we have lacked products for waterproofing the roofs", the executive added.
However, investments in the health sector of the province are not limited solely to constructive actions. Funds have been used to buy medical and non-medical equipment, like ventilators, neonatal transport incubators, hemodialysis and anesthesia machines, centrifuges and a multislice CT.