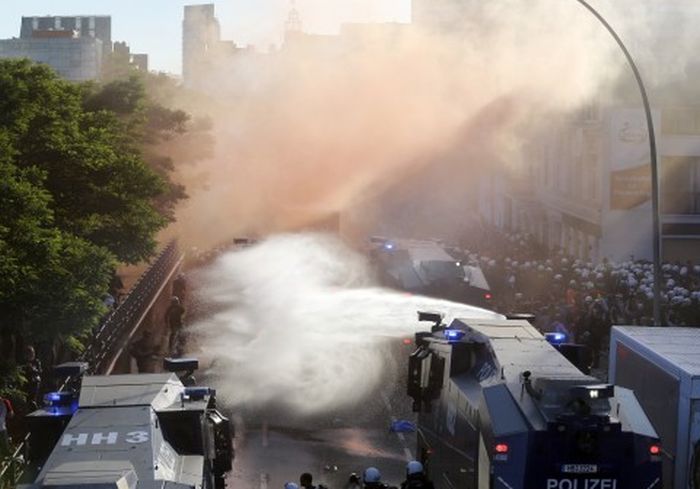 Protesters claim that G20 policies worldwide are responsible for hellish conditions like hunger, war and the climate disaster
"Welcome to Hell." That's the greeting for U.S. President Donald Trump and other world leaders on Thursday from anti-capitalist protesters in Hamburg who aim to disrupt the July 7-8 G20 summit.
Tens of thousands are expected to gather at the fish market in the borough of St Pauli on Thursday around the same time as Trump arrives in Hamburg. They will then march north to the heavily secured summit venue.
Besides Trump, Russia's Vladimir Putin, Turkey's Recep Tayyip Erdogan and other leaders of the world's 20 largest economies will also attend the two-day summit.
Protest organizer Andreas Blechschmidt told AFP: "It's a combative message … but it's also meant to symbolize that G20 policies worldwide are responsible for hellish conditions like hunger, war and the climate disaster."
Several small demonstrations took place relatively peacefully in Hamburg this week. However, on Tuesday night, riot police used water cannons and pepper spray to disperse crowds at an unauthorized protest camp, leaving five people injured.
In regards to Thursday's protest, city police Chief Ralf Martin Meyer told ZDF television: "We are skeptical as to whether this evening and tonight will remain peaceful."
Up to 100,000 demonstrators are expected during the two-day Group of 20 meeting, some 8,000 of whom are deemed by security forces to be ready to commit violence, according to the police.
Hamburg is boosting its police force with reinforcements from around the country for the summit and will have 20,000 officers on duty to patrol the city's streets, skies and waterways.
"It's ridiculous that police say some of us are violent when starting tomorrow the leaders of the world's largest weapons-exporting and importing nations will be arriving in our city," Stefan Hubert, a 32-year-old graphic designer who came to the protest on Wednesday with three friends, told Reuters.
Previous G20 summits in recent years have usually been held in remote locations, but Chancellor Angela Merkel decided to hold the summit in the center of Germany's second-largest city partly to show that "healthy democracies" could tolerate protests.
"The choice of the host city is unfortunate," said Neil Dwane, a strategist for Allianz Global Investors. "Protesters will find a journey to Hamburg easy to make, unlike previous, more remote, venues."
"The city will require a degree of protective measures, which may get more media attention than the meeting's contents. Such a result would reinforce an increasingly negative impression of the summit," he added.
Taken from http://www.telesurtv.net/english