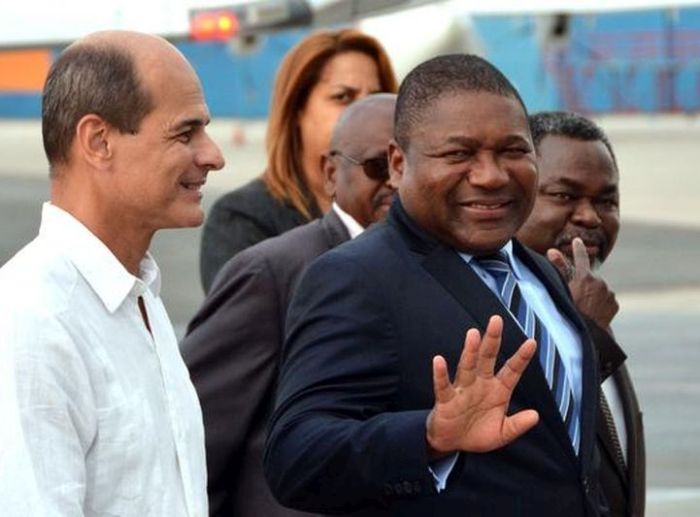 According to diplomatic sources, the Mozambique leader will seek to reinforce cooperation in key areas like health, agriculture, culture and tourism
The President from Mozambique Filipe Jacinto Nyusi arrived on Thursday in Cuba on an official visit and is to hold talks
with President Raul Castro.
The Head of State was welcomed in Havana by Cuban Deputy Foreign Minister Rogelio Sierra; Director of Sub Saharan Africa at the Foreign Ministry, Angel Villa and the Mozambique ambassador to Havana Miguel Costa.
As part of his visit, the African leader and delegation will carry out a broad agenda to reinforce the historic friendly and cooperation ties between both peoples, Parties and governments which dates back to over 40 years.
According to the program of activities, the Head of State will visit the Genetic and Biotechnology Center and the African Leaders Park in Havana to pay homage to the heroes of the African continent.
He will also place a floral wreath before the Jose Marti Monument located at Revolution Square in the Cuban capital.
Diplomatic sources report that among the main interest in the bilateral agenda is reinforcing cooperation in key sectors like health, agriculture, technical-professional training, culture and tourism.
Jacinto Nyusi is President of Mozambique since January 15th, 2015 and prior to being named Head of State he was Minister of Defense for a period of 6 years. He is also member of the Mozambique Liberation Front, PRELIMO Party.
A cooperation agreement was signed last May between the Cuban Education Ministry and the Mozambique Education and Human Development Ministry.
Both nations look in sharing experiences in education to strengthen training personnel in the Mozambique education system.