The event is being held at Havana's Conference Center and is attended by some 3,000 professionals, including delegates from other countries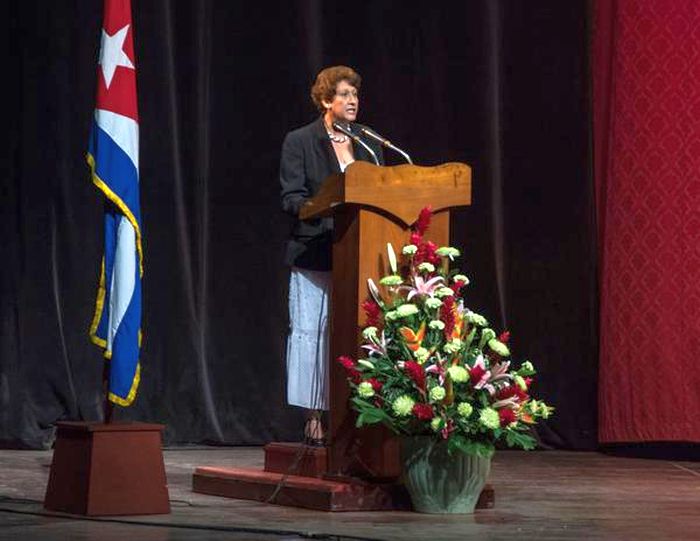 "Throughout 58 years of Revolution, the education sector has worked and continues to work intensely to respond to the needs that exist at all times," stated Education Minister Ena Elsa Velázquez Cobiella, on inaugurating the 25th edition of the International Pedagogy Congress, Pedagogía 2017, in the presence of the member of the Party Political Bureau and First Vice President of the Councils of State and Ministers, Miguel Díaz-Canel Bermúdez.
The Minister of Education, in an inaugural conference entitled "Congreso Pedagogía: A source of thought, unity and hope," emphasized that the Comandante en Jefe was the "teacher of our revolutionary pedagogy, who from his plea 'History Will Absolve Me', envisaged the future of education; (…) the promoter and leader of the Literacy Campaign whose successful conclusion last December celebrated its 55th anniversary."
Velázquez Cobiella also noted the participation of educators from across the globe in this year's Congress, and summarized the main results of this event — since the first edition in 1986 — among which she highlighted the emergence of the Association of Educators of Latin America and the Caribbean, the Latin American and Caribbean Pedagogical Institute, among other organizations.
Likewise, she evaluated the evolution of pedagogical thought in the region, within the various contexts in which the Congress has developed, which has been "the result of the experience of the educational practice of managerial and teaching staff, tested out in the natural laboratory: the classroom, the school."
Velázquez Cobiella addressed the essential ideas of the third process of the perfecting of the Cuban Education System, and the significance of the Yo sí puedo (Yes, I can) and Yo sí puedo seguir (Yes, I can continue) literacy programs, which have benefited some ten million people across the world.
The cultural and political gala — which took place this Monday at Havana's Karl Marx Theater, and was dedicated to the figure of the historical leader of the Cuban Revolution, Comandante en Jefe Fidel Castro — was also attended by the members of the Political Bureau of the Party Central Committee, Esteban Lazo Hernández, president of the National Assembly of People's Power; and Teresa Amarelle Boué, secretary general of the Federation of Cuban Women; Olga Lidia Tapia, member of the Party Central Committee Secretariat; José Ramón Fernández Álvarez, advisor to the President of the Councils of State and Ministers; the ministers of Higher Education and Science, Technology and Environment; representatives of trade unions, INDER and the Young Communists' League; education ministers and deputy ministers from various participating countries, and other special guests.