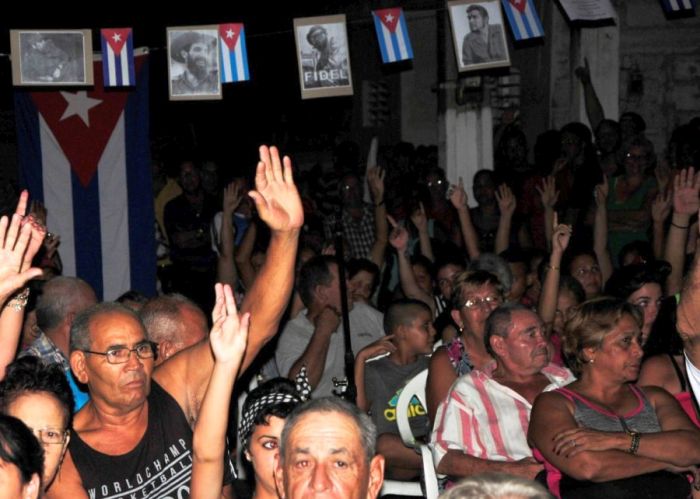 In Cuba, 60,870 proposals were made, leading to the nomination of 27,221 candidates, of which 9,637 are women

The process of nominating candidates to be elected as delegates to Municipal Assemblies of Peoples Power, scheduled September 4 through October 30, has successfully concluded across the country.
Discipline, organization, and massive, active participation by the population characterized the assemblies held in all constituencies, with the attendance of 6,746,867 electors, representing 78.35 % of eligible voters.
Made were 60,870 proposals, leading to the nomination of 27,221 candidates. Of these, 9,637 are women, representing 35.40% of the total, and 5,307 youth, or 19.49 %. The provinces where the largest number of women were nominated are La Habana, Artemisa, Matanzas and the Isle of Youth Special Municipality. Those where the greatest number of youth were nominated are Cienfuegos, Guantánamo and Ciego de Ávila.
Among current delegates, 8,331, or 66.44% were nominated for another term, with the highest percentages in Holguín (73.41%), Santiago de Cuba (72.45%), and the Isle of Youth Special Municipality (72.29 %).
Beginning October 19, and continuing through November 9, lists of electors are posted in all constituencies, and work is underway to verify and update them.
Photos and biographies of those nominated are posted beginning the first of the current month, so that voters have the necessary information to elect the candidate of their preference as delegate, this coming November 26.
From the first through November 17, electors selected to serve on voting station boards, as well as all other electoral bodies, will prepare to direct the voting process in constituencies.
National Electoral Commission
November 2, 2017