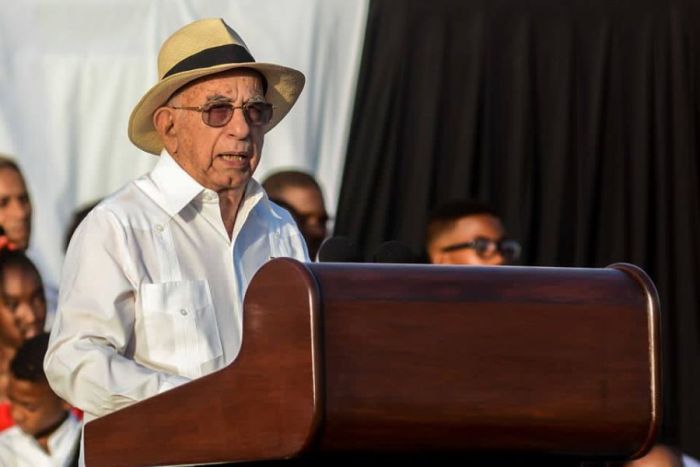 The Cuban Western province of Pinar del Rio hosted this year the central activities to mark the 26th of July commemoration
With the presence of Army General Raul Castro Ruz, first secretary of the Central Committee of the Communist Party of Cuba and president of the Councils of State and Ministers, thousand residents of Pinar del Rio celebrated this 26th of July the National Rebellion Day in a ceremony held at the Provisional Revolution Square located in the Brothers Cruz neighborhood of the brother of the city of Pinar del Río.
José Ramón Machado Ventura, second secretary of the Party Central Committee, when delivering the keynote speech of the patriotic act said that July 26 is a transcendental date in Cuban history which evokes a mix of emotions and ideas in us, of commitment to Fidel and to all those who gave their lives for the independence of our country, and of pride as Cubans.
Fidel remains present alongside this people, true, in everyday affairs to the concept of Revolution he bequeathed to us, Machado said.
He added that a few numbers are enough to illustrate how much Pinar del Río has changed since the triumph of the Revolution.
Before 1959, he recalled, the province had only 248 doctors, 25 dentists, and 50 nurses. There are now 626 neighborhood family doctor's offices, 19 polyclinics, eight dental clinics, and five hospitals. The nursing staff has surpassed 5,000 and there are 4,577 doctors, 18 times the 1959 total.
Among the provinces accomplishments, Machado Ventura noted the reduction of infant mortality, from 60 deaths for every 100 live births before the Revolution to 1.7 in the first half of 2017, an extraordinary figure.
He likewise emphasized illiteracy, reduced to zero from a previous level of 30%, and unemployment from 30% to 1.3%.
Although much remains to be done to dynamize the Cuban economy, he said, Pinar del Río is playing a vanguard role in this difficult battle.
He noted recent accomplishments in tobacco, tourism, and industry, among other sectors.
Machado recalled that there are innumerable Pinar del Río natives who participated in making the Revolution, just like those today who are building a better future for the homeland with the sweat of their brows.
Machado also denounced interventionist attacks on the constitutional government of Nicolás Maduro in Venezuela, and called for respecting the autonomy of this sister nation, reaffirming Cuba's solidarity with the people and government there.
He likewise reiterated the revolutionary government's condemnation of new measures to reinforce the U.S. blockade.
Machado Ventura concluded his remarks insisting that we will never betray the glory and pride of having served the homeland and the Revolution under the leadership of Fidel and Raúl, reiterating that any strategy to promote subversion here will fail.
Photos: ACN