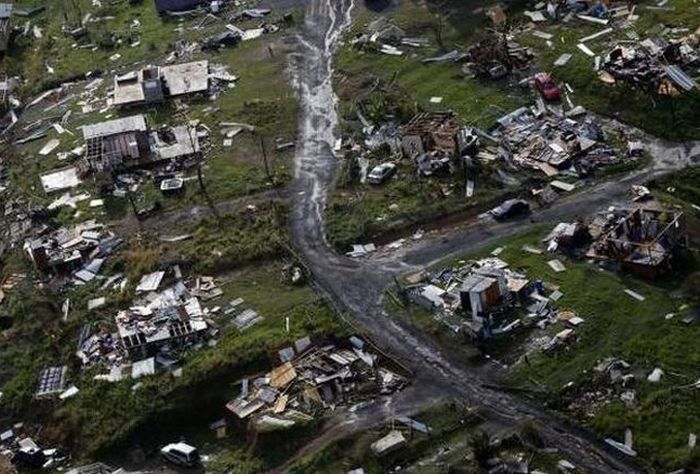 According to some experts the destruction caused by the storm revealed the true face of poverty on the Caribbean island
Behind images of the country's lush natural landscapes, great highways or metropolitan cities, poverty was, until recently, a hidden reality in Puerto Rico – currently standing at 52.3% following Hurricane Maria.
According to some experts the destruction caused by the storm revealed the true face of poverty on the Caribbean island, subjected to the colonial rule of the United States for the last 119 years.
If there was any doubt about the country's true socio-economic situation, the University of Puerto Rico (UPR) recently announced that poverty levels have risen from 44.3% to 52.3% since the Hurricane hit on September 20.
According to statistics from the UPR Cayey Campus' Census Information Center (CIC), 9% of people that lived on the poverty line before the storm had fallen below it, in the months following the natural disaster.
The situation has also been aggravated for many working people whose expenses have increased and incomes decreased, after hurricanes Irma and Maria hit the island, either because they work less hours due to power shortages or because they have lost their jobs.
Director of the CIC, José Caraballo, noted that Hurricane Maria exacerbated poverty levels in Puerto Rico, which is why more than half of the population is potentially living below the poverty line.
If recovery efforts in the country continue to be prolonged and more people lose their jobs and incomes, it's possible that the 254,905 people earning 20 to 50% above the poverty threshold could fall below it, which could see the poverty rate increase to 59.8%, according to the economist.
Caraballo noted that the poverty rate among citizens 17 years of age or younger was the highest among all age groups, at 57% in 2016.
He also highlighted disparities in child poverty rates between different municipalities, such as Maricao (82%), Barranquitas and Comerío (74%), in the central mountainous region, as well as Patillas in the south, where indices are much higher, compared to those located close to the capital, like Toa Alta (35%), Gurabo and Guaynabo, both registering 37%, where poverty rates are lower.
The economist explained that despite the destruction caused by the hurricanes, when looking at poverty rates by age, children continue to be the most vulnerable.
Caraballo noted that municipalities where seven to eight of every ten children live in poverty should be prioritized during the recovery process.
These are marginalized boys and girls crying out for the same opportunities as privileged children, he noted.
Despite U.S. domination, with an economy that has been in freefall for the past eleven years, and a public debt of some 73 billion USD, the reality in Puerto Rico is one of total defenselessness.