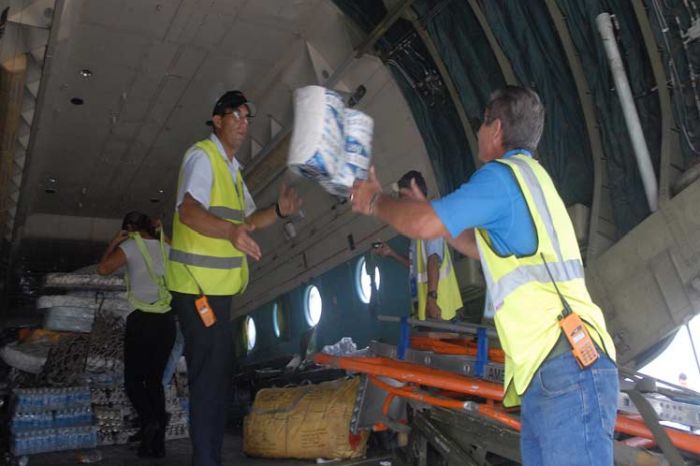 Many countries from around the world, especially in Latin America, have expressed their solidarity towards Cuba
Venezuela became the first country to send humanitarian aid to Cuba this Tuesday, September 12, following the impact of Hurricane Irma on the island over 72 hours.
The aircraft 2803, model Y-8, of the Venezuelan Air Force arrived at Havana's José Martí International Airport with a message of solidarity on behalf of the people of Venezuela and President Nicolás Maduro, in addition to a cargo of 7.3 tons of aid for the victims of Irma.
Mattresses, water and canned food formed part of the first shipment of aid from Venezuela, while further donations from the sister nation are being prepared for shipment, Prensa Latina reported.
As the aircraft arrived, Venezuelan Minister for Women and Gender Equality, Blanca Eekhout, assured that her country is ready to assist Cuba in anyway it can, as an expression of infinite gratitude and solidarity.
Cuba – she stressed – was always with Venezuela in the most difficult times and that is why we are permanently committed to its people and Revolution.
We have also worked in solidarity with our brothers and sisters in the rest of the Caribbean, impacted by Irma's powerful winds and heavy rain, she added.
The Venezuelan minister emphasized that these efforts follow the legacy of The Liberator Simón Bolívar, and the late Comandante Hugo Chávez, upheld by President Nicolás Maduro.
We know that Cuba will be victorious because of its level of organization and preparation, especially because it is a united people; but they can also count on the solidarity and love of Venezuela, Eekhout concluded.
Meanwhile, Cuban Deputy Minister of Foreign Trade, Roberto López, highlighted the gesture of solidarity from Venezuela, and its support at this difficult time.
This is the first shipment of aid we have received and we reiterate our gratitude. This reaffirms the bonds of brotherhood between the two nations, López stressed.
Many countries around the world, especially in Latin America, were attentive to the impact of Hurricane Irma on the island and have expressed their solidarity.