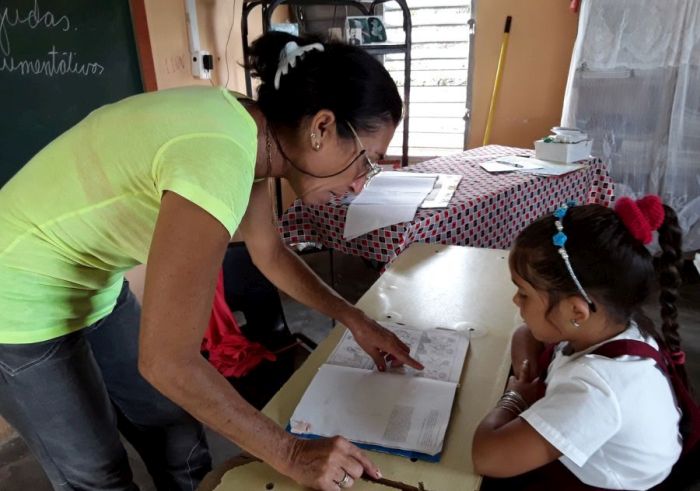 Damages caused by Hurricane Irma in Yaguajay brought about cooperation to resume school activities
Olainys Duran Martinez remembers that morning of September 10, 2017, when she opened the window of her house in Llanadas Arriba and saw that the roof of the school was missing two or three sheets. Later on she found out that what she saw had been just an illusion due to the fog because the hurricane had indeed removed all of the sheets.
— And now, mom, when can I go to school ?, her son Frederich asked.
—Don't worry, lessons will be given even under a tree, she replied.
It was not necessary. Olaine telephoned her cousin Alexander Molina Victoria to asked him for the possibility of using his house to accommodate the nine students of the local Camilo Cienfuegos Gorriarán primary school.
"Of course, I only need that some construction materials I have here are moved somewhere else and that everything around here is well taken care of", he said.
Escambray knew the story from Alexander's aunt, Milagros Rodríguez Molina, who witnessed the decision of her relative who no longer resides in this Plan Turquino region, but in the town of Meneses.
WILL VS.IRMA
With equal force as that of the cyclone, actions were immediately undertaken in the damaged school to safe everything possible. The sheets of the roof were all smashed to pieces. Since everything had been turned upside down in Marti's garden, the workers of the local forestry business had to bring their chainsaws to clear the area from fallen branches and to cut down the majagua tree that for years had been the queen of that grove.
On the other hand, the teachers and parents came together to clean the first two rooms of the "borrowed school", because the place had been closed for some time. The televison sets, computers, text books, and other school materials were brought from Nereida Castillo's house and other homes where they had been kept.
The efforts were worthwhile and since Monday, September 18, the children could wear their uniforms as they always have. But this time, they went for classes to the house next to the school, although the Cuban flag is kept raised in the institution, where they also attend their first morning activity.
Teacher Luvia Alfonso Ibarra writes on the blackboard provisionally placed on a table.Never before in his 12 years of work had she left the school to teach her lessons.
In the kindergarten "classroom", Coralia Benavides Almeida encourages her pupils to draw farm animals. She gets up before dawn every day to catch a transport that brings her from Meneses, the town where she lives, in order to arrive before eight in the morning.