In an epic playoff final to conclude the 56th National Baseball Series, the Granma Sorrels swept two-time champions Ciego de Ávila to win the team's first title in their 40 year history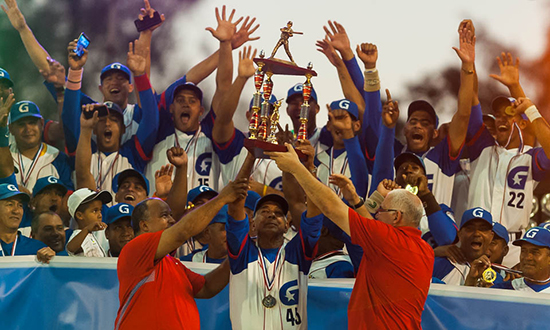 Rarely is a team with so much determination seen. Granma first defeated heavily favored Matanzas in the semi-finals on that club's home field, before traveling to Ciego de Ávila and winning two close games there by one run. Saturday the 21st they surprised the reigning champions with a 10-1 victory to the delight of their fans in Báyamo.
Sunday was the decisive game, the fourth game of a seven-game series, with Granma ready to take the title and Ciego de Ávila in need of a win to keep their hopes alive.
Left-hander Leandro Martínez was the opening pitcher for Granma, holding Ciego de Ávila to 2 runs through the fourth inning. Manager Carlos Martí then sent in César García, who provided stellar relief for the next four innings and allowed the offense to take the lead. The country's best closer Miguel Lahera, protected the one run advantage in the 9th, allowing just one hit and striking out the last two batters.
Granma thus won the historic victory, coming from behind to take the championship 3-2.
RUNS PER INNING
Ciego de Ávila: 000 200 000
Granma: 000 100 11X
W: César García (6-2). L: José Ángel García (3-3). S: Miguel Lahera (11).