The causes of the accident are still under investigation, but it was known that there was a disrespect of the right of way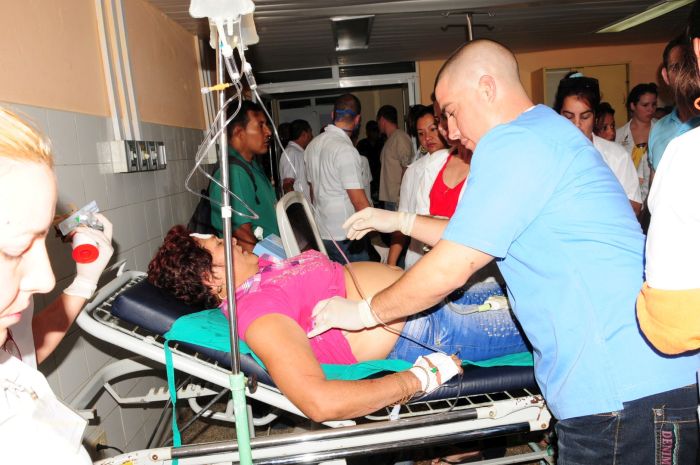 Six persons killed and nearly 50 injured were the result of a railroad accident that took place at noon this Friday, in the Sancti Spiritus-Zaza del Medio railway branch when a passenger rail car impacted against a train loaded with sugar cane heading for Melanio Hernandez sugar mill, in the town of Tuinucú.
According to sources involved in the clarification of the facts confirmed that, even though the causes are still investigated, it is preliminarily known that there was a disrespect of the right of way on the part of the rail car crew.
Sergio Sotolongo Gómez (55), Yoanky Hernández Entenza (36), Dioney Martín Martínez (41), Adelina Iznaga Castellanos (58), Raúl Martínez Cruz (64) and Reinaldo Carmona Farfán (65), all of them from the province of Sancti Spiritus, were the people killed in the accident.
The main authorities of the territory, headed by José Ramón Monteagudo Ruiz, member of the Central Committee and first secretary of the Party in Sancti Spiritus and Teresita Romero Rodríguez, president of the Provincial Assembly of the People's Power, along with Major General Ramón Pardo Guerra, head of the National Civil Defense General Staff, verified in situ the magnitude of the accident, which happened in the outskirts of the capital city.
They also went to the General University Hospital Camilo Cienfuegos, major health center of the province, where the injured people were admitted for medical attention.
(With information from Lisandra Gómez, Carlos Luis Sotolongo and the Agencia Cubana de Noticias)
(Photos: Vicente Brito / Escambray)