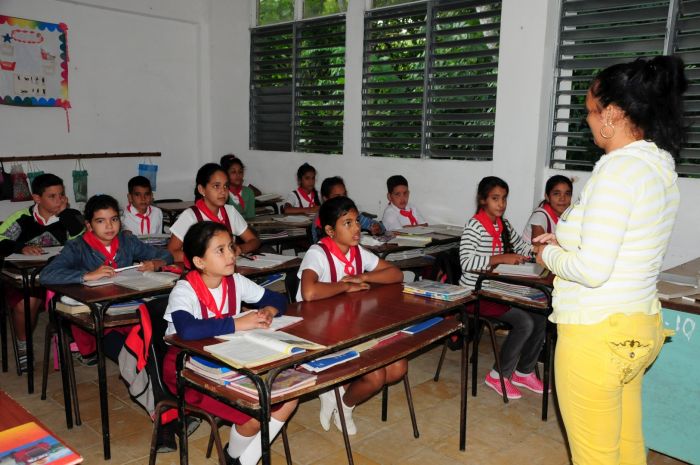 This coming September 4, more than 1.75 million students will enter Cuba's 10,698 educational institutions, reported Education Minister Ena Elsa Velázquez Cobiella, yesterday August 24, during a press conference in which details of the 2017-2018 academic year were discussed.
Teacher coverage is guaranteed for 93% of classrooms, she noted, including those with alternatives in place. Among the options being considered to complete staffs is the contracting of retired educators, university students, and teachers in training, which should ensure 99.5% coverage.
The minister noted that there are more openings in preschool childcare centers in several provinces with the rehabilitation of some facilities, while in others, including Havana, Matanzas, Sancti Spíritus and Ciego de Ávila, openings are limited given the special requirements expected of staff. She emphasized the need to continue training aides with high school educations.
Additionally reported was the opening of two new pedagogical schools in Baracoa (Guantánamo) and Havana, bringing the total of this type in the country to 26.
In regards to materials and resources, Velázquez noted that shortfalls presently exist in paper, kitchen equipment, and components for solar panels used to power televisions and computers in remote areas. Spare parts for the repair of electronics are also in short supply, she said, limiting availability of technology to 87%, although 2,425 new 32-inch hybrid televisions for classrooms have arrived.
Velázquez reported that the ministry had planned to repair 1,795 facilities as of this point in the year, but in fact 2,023 have been renovated. She noted that by the end of the year, 20% of schools will still face less than optimal conditions, but that this figure is 9% less than last year, while emphasizing that the quality of repairs is being carefully monitored.
She additionally stressed that the general elections taking place this fall are of special interest to schools, with many students reaching the voting age of 16, while others will be involved in safeguarding ballots boxes.