The news was announced during a press conference held at Havana's Latinoamericano stadium with the participation of the manager of Les Capitales de Quebec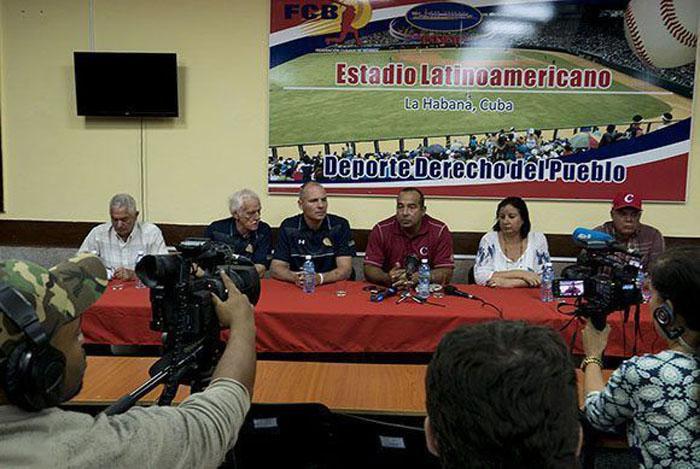 Yurisbel Gracial, Lázaro Blanco, Miguel Lahera, Alexander Ayala, Julio Pablo Martínez and Yordan Manduley will join the ranks of teams from the Canadian American Association of Professional Baseball (Can-Am) League, which kicks off May 8 through the first week of September, as part of a collaborative initiative between the Cuban Baseball Federation and the aforementioned organization.
Roel Santos' name also features on the list; however his participation is yet to be officially confirmed, as he could also travel to Japan to play with the Chiba Lote Marines, who have expressed interest in his services. If not, Santos will once again appear on the roster of one of the Can-Am League teams, just like he did last year.
The news was announced during a press conference held at Havana's Latinoamericano stadium, with the participation of Can-Am Vice President and manager of Les Capitales de Quebec, Michel Laplante; Yosvani Aragón, Cuba's national director of baseball; and Higinio Vélez, President of the Cuban Baseball Federation.
Aragón also confirmed the participation of an Under-18 Cuban squad in a tournament to be held in the city of Quebec from July 2-25.
"It's a competition featuring players between 21 and 23 years of age, but we will take full advantage of this opportunity to include players under the age of 18 currently participating in their national tournament at the end of the regular season. The competition will serve as preparation looking toward Cuba's participation in the Under-18 Baseball World Cup."
The global competition will take place in Thunder Bay, Canada, from September 1-10, and feature 12 teams split into two groups, with the top three advancing to the Super Round. Cuba is in Group B, along with reigning champions the United States; 11-times winners of the competition, Japan; Mexico; Holland; and South Africa.
According to Aragón, negotiations with Can-Am regarding Cuba's participation in the upcoming competition are almost complete. "The final details are being worked out and we should be competing with a team from June 8-29, which will then play against the United States from July 1-8 in North Carolina."
Asked about the characteristics of teams participating in both tournaments, he stated that they will feature very young players who should be set to represent Cuba in international competitions in 2019 and 2020, including the Olympic Games and Fifth World Baseball Classic in 2021. "We will also have a tournament in Rotterdam, Holland, where we will be mixing both up and coming players with more established ones."
For us Cuba's participation in the Can-Am League has been a great experience. The players add quality to the competition, for example Gracial and Santos stood out during last year's tournament, while Manduley was sadly injured. We've also noted a positive reaction from fans and are sure that we will continue to grow this season, stated Laplante.