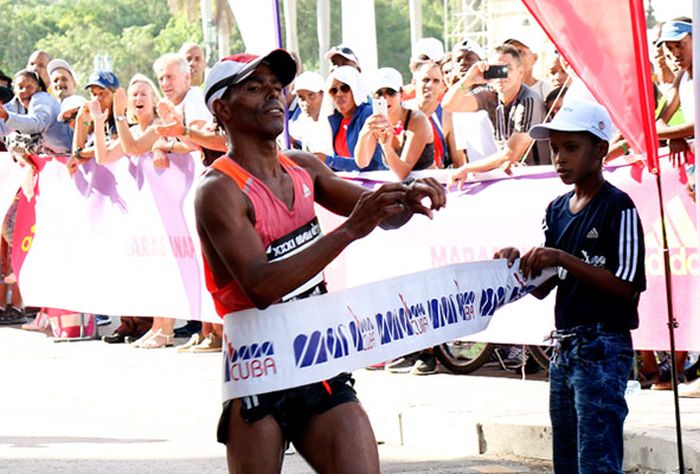 Henry Jaen, who scored time of 2 hours, 28 minutes and 42 seconds, was the first to cross the fibisging line
Cuban Henry Jaen won for the fifth time, second in a row, the marathon event of the Marabana Marathon Race, while his
countryman Richer Perez became champion for 7th consecutive year of the half marathon event in this same contest taking place each November in the Cuban capital.
Jaen scored time of 2 hours, 28 minutes and 42 seconds and was escorted by the also Cubans Yumier Fouman (2:29:50) and Alien Reyes (2:34:23), while the also local Yudileyvis Castillo (2:46:36) won the women´s event followed by Misleydis Vargas (2:54:47), previous champion, and Lizandra Gomez (3:11:29).
Thus, Jaen became absolute leader of Marabana marathon event and earned, along with Castillo, the right of attending the Paris 2018 Marathon.
Meanwhile, Perez also made history when winning for the seventh consecutive year the half marathon event, this time with record of one hour, six minutes and 18 seconds.
Perez, Toronto 2015 Pan-American and Veracruz 2014 Central American and Caribbean Games champion, had a tough rival in American Jeffrey D. Eggleton (1:06:27), silver medalist, while the local Yuleidys La O (1:08:11) ranked third.
In the women´s event the winner was Cuban Dailin Belmonte (1:16:44), thus earning her sixth gold medal in a row in this contest, who was followed by Tonya Nero (1:16:54), from Trinidad and Tobago, and Puerto Rican Paola Rivera (1:23:54).
Meanwhile, the local squad became monarch of the team event after scoring time of two hours, 23 minutes and two seconds and was escorted by Trinidad and Tobago (2:30:21) and Puerto Rico (2:38:50).
Finally, Luis Ernesto Hernandez (33 minutes and six seconds) and Leslie Amat (39:53) were the champions of the 10 km race, in the men´s and women´s event respectively, of this 31st edition of Marabana.Foto: Jaen, cinco veces monarca de Marabana. Foto: Roberto Morejón