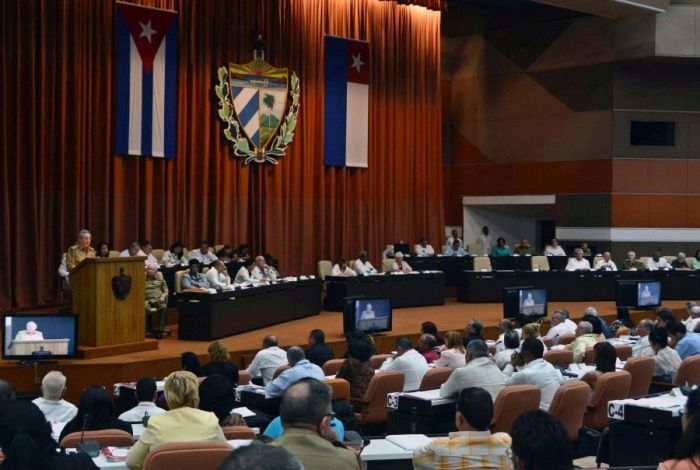 Cuba President Raul Castro in the extraordinary session of the VIII Legislature of the National Assembly of the People's Power
Cuban President Raul Castro said that the documents approved in the III Plenum of the Central Committee of the Party are programmatic foundations that reaffirm the character Socialist of the Revolution.
After parliamentarians had approved the Conceptualization of the Cuban Economic and Social Model of Socialist Development, and the updating of the Guidelines of the Policies of the Party and the Revolution for the period 2016-2021, Raúl said that such documents also constitute sustenance of the role played by the Party as the leading force of society and the State.
Speaking at the Havana Convention Center, the Cuban President said that these programs will enable continuity in the updating of the socio-economic model, "to change everything that must be changed". We will do so at the speed that allows us the consensus that we forge within our society, and the capacity that we demonstrate to do things well, to avoid serious errors that could compromise the successful accomplishment of this gigantic and honorable task, Raul said.
He said the documents are comprehensive and complex, and will mark the course of the Cuban revolutionary process, of the Party and the society, in search of the construction of Socialism.
He recalled the wide consultation of these texts, carried out throughout the country by Party members, the Young Communist League, mass organizations and various sectors of society that, in addition to perfecting their initial wording, resulted in the exercise of participation popular.
Raul ratified what was expressed in the III Plenum of the Central Committee last May that these are the "most studied, discussed and rediscussed in the history of the Revolution, and perhaps of the Republic of Cuba" documents.
At another point in his speech, the Cuban President reiterated his support for Venezuela and his legitimate government, headed by Nicolás Maduro.
Previously, the Assembly adopted a special declaration of solidarity with the people and government of that nation, which suffers from right-wing aggressions, arbitrary and unjust unilateral sanctions by the United States government, and intervention by the Organization of American States and
other countries in its internal affairs.
Raúl also showed the support of the island to the sovereign will of the people of Brazil, before the development of events as a consequence of the methods to separate the president Dilma Rousseff from his position, in addition to the persecution of the Workers' Party and its leader, Luis Inácio Lula da Silva.
Before the plenary, he announced that next July the Parliament will meet to address issues of national and international events.