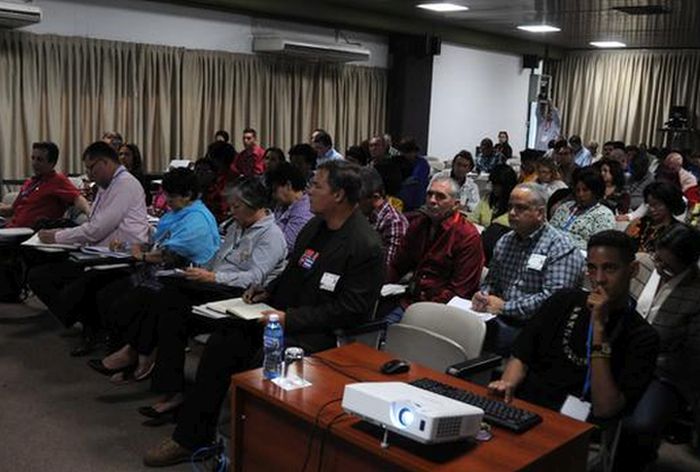 Some of these working groups will analyze the execution of the State Budget and the fulfillment of the Plan of the Economy in 2017
The 10 standing commissions of the Cuban Parliament meet today, at the Havana Convention Center, to evaluate important issues related to the country's socioeconomic development.
As part of the X Ordinary Period of Sessions of the National Assembly of People's Power, in its Eighth Legislature, some of these working groups will analyze this day the execution of the State Budget and the fulfillment of the Plan of the Economy in 2017.
According to the program, the Vice President of the Council of Ministers, Ricardo Cabrisas, minister of Economy and Planning, will also present the projections for 2018, in the Economic Affairs Commission.
Common theme among the legislators this Tuesday will be, moreover, the state of the approaches of the population, the confrontation to illegalities, corruption and indiscipline. A panel on international policy scenarios for the period 2018-2023 will be developed in the International Relations Commission, and information will be received on the collaboration of other nations with Cuba.
The Health and Sports deputies of the Parliament will focus their analysis on the impact of the structure of the National Baseball Series and the participation of athletes hired in foreign leagues, while the Agri-Food Commission will focus on the measures of the AZCUBA business group to
guarantee the repair of the industry and the state of plantations for the 2017-2018 harvest.
The Service Attention work group will review compliance with the commercial circulation plan based on inventory management, and the behavior of passenger and cargo transportation based on the new organizational forms implemented this year.
It will be of special interest the update that will make the commission of Industry, Construction and Energy, on the state of housing at the national level, as well as the results in the implementation of the policy for the development of renewable energy sources, and State investments in water resources.
This day will also provide details on the results of the work of the procedures of the population related to internal order, immigration, registration of vehicles, licensing of driving, among other related activities.
The process of integration of Higher Education in the provinces and the potential of the Cuban music industry will also be on the agenda of the parliamentarians.
A report from the Ministry of Labor and Social Security will also be made public, on the recommendations of the Inspection carried out to comply with the chapters of the Labor Code referring to working women and young people from 15 to 17 years of age.