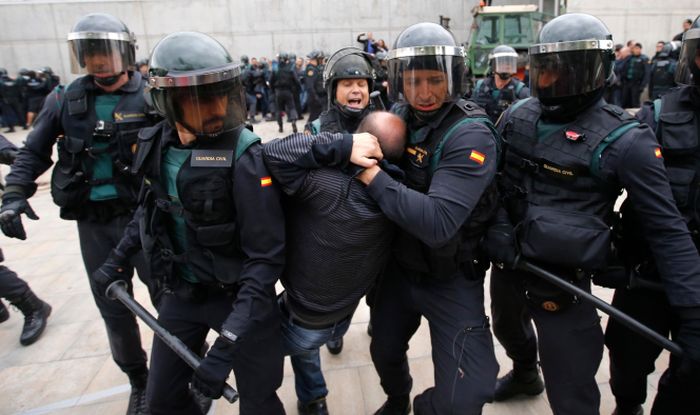 Catalonia's independence referendum was "not legal" under Spanish law, a European Commission spokesperson has said
The representative went on to say that "this is an internal matter for Spain that has to be dealt with in line with the constitutional order of Spain."
After Spanish riot police shut down polling stations and beat protesters, leaving almost 900 people injured, the EU's executive branch said the situation long brewing between Spain and Catalonia is an "internal matter," one that the European Commission would not intervene, according to The Independent.
Catalan leaders, however, urged the EU to intervene after Spanish security officials closed polling stations and attacked voters during Sunday's independence referendum. Almost 850 people were injured, including two in serious condition, the regional government reported.
The European Commission went on to say that "If a referendum were to be organized in line with the Spanish constitution, it would mean that the territory leaving would find itself outside of the European Union. Beyond the purely legal aspects of this matter, the Commission believes that these are times for unity and stability, not divisiveness and fragmentation."
It urged Spain and Catalonia to "move very swiftly from confrontation to dialogue" and, in a released statement, noted that EU officials "trust the leadership of Prime Minister Mariano Rajoy to manage this difficult process in full respect of the Spanish constitution and of the fundamental rights of citizens enshrined therein."
Located in the northeast of Spain, Catalonia is recognized as one of the country's most prosperous regions — not only economically, but culturally. Residents have also been able to maintain their national language: Catalan. Apart from these aspects, which have historically fed into the independence movement, residents of Barcelona say they pay exorbitant taxes to Madrid and don't receive their worth back in services.
Taken from https://www.telesurtv.net/english