The winners of the Casa de las Américas Prize 2017 were announced during the closing event of the cultural program (January 16-26) in the institution's Che Guevara Hall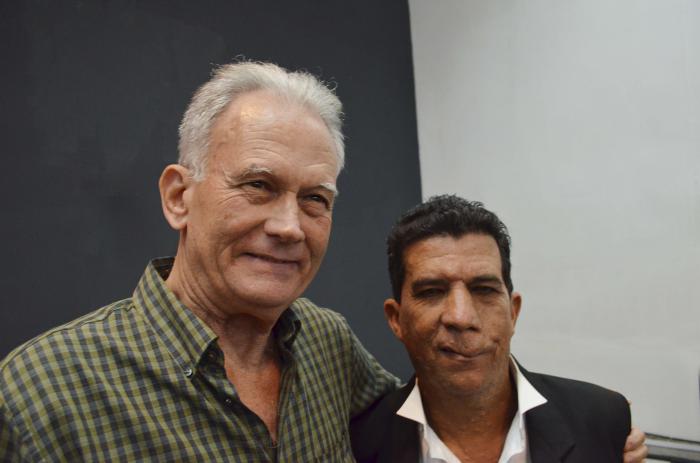 During the final session, which was attended by Cuban intellectuals Abel Prieto, minister of Culture; Roberto Fernández Retamar and Miguel Barnet, Presidents of the Casa de las Américas and the Union of Writers and Artists of Cuba (UNEAC), respectively, competition judges announced the prize winners, providing an explanation for each decision.
First, Jorge Fornet, director the Casa's Literary Research Center, called on Uruguayan author Milton Fornaro to read out the considerations that led the panel of judges to unanimously award the Prize in the novel category to Incendiamos las yeguas en la madrugada, by Ecuadorian Ernesto Carrión. This was no doubt a surprise, given that Carrión is a poet and author of renowned works such as La muerte de Caín, El libro de la desobediencia, and Carni vale.
The judges noted that the novel "offers a crude and vibrant social portrait, whose intention is not only to explore a stratified and violent urban landscape, where disenchantment and nightmare are the constants of a life equation, but manages to give the story a specific literary weight, combining a dynamic structure with well placed areas of suspense, credible characters and conflicts which, far from being confined to a specific context, shed light on a human situation, perceptible across the entire continent."
The Prize for historical-social essay was presented by Mexican Berenice Ramírez López, to Pedro Agudelo Rondón for América pintoresca y otros relatos acráticos de América Latina.
In their considerations, jury members noted that Agudelo "reinterprets the concept of imagination, with the aim of creatively thinking about Latin America in dialogue with its multiple manifestations of different cultural traditions," doing so with clear and elegant prose.
This 58th edition of the Casa Prize saw 150 works submitted to the Brazilian fiction category. According to the decision by judges, read out by author Guiomar de Grammont, the Prize was unanimously awarded to Outros cantos, by Maria Valéria Rezende, an important literary figure and outstanding writer with works which range from novels such as Quarenta Dias and Vasto Mundo, tochildren's and youth literature.
Regarding Outros cantos, the jury noted that it is "based on travel memoirs, the narrator recalls the choices and personal sacrifices she made whilst working in the northeast of Brazil teaching adults to read and write…The work reflects on how ethical and human values have been supplanted by those of a consumerist society which stifles popular and traditional manifestations…"
The Prize for testimonial literature provoked a kind of journey back to the beginning. The reasons for unanimously awarding the Prize to Lloverá siempre, by Artentine Liliana Villanueva, were announced by her compatriot Stella Calloni: "It's a long interview with Uruguayan journalist and author María Esther Giglio, who coincidently won the Casa de las Américas Prize for testimonial literature (with La guerrilla tupamara) when the genre was included for the first time in 1970. She guides the conversation with originality, without questions, she has a catchy colloquial language, open, sincere; and a unique, warm voice, with touching moments, and others which emerge from the intelligent wit that this "historic legend" from her country is known for; and whose work gave a new dimension to journalistic and literary genres. Her life, told without pretense, reveals to us a woman who was the lawyer of the first two political prisoners from the Tupamaros movement, and herself persecuted and finally exiled."
Perhaps because they were Cuban, Fornet decided to announce these two winners last. The first was Reynaldo García Blanco, winner of the Poetry category, with a majority vote for Esto es un disco de vinilo donde hay canciones rusas para escuchar en inglés y viceversa.
In their comments, read out by Leonel Alvarado from Honduras, the jury emphasized the "expressive clarity of the writing," noting that the author "presents poems of refined writing, not devoid of well placed humor and serious irony. With an insightful perspective, the anthology presents characters and situations from contemporary culture without straying from free verse or prose poetry."
Speaking briefly to Granma International, after stating before attendees to the closing ceremony that for him poetry is an act of faith, García Blanco explained that he tries to capture the daily life and dynamics of his country in most of his works (which include Instrucciones para matar a un colibrí and Campos de belleza armada).
The last Casa 2017 Prize to be announced was the award for studies into the African legacy in modern-day Latin American and the Caribbean. According to their considerations, delivered by Dominican Silvio Torres-Saillant, the judges unanimously chose to award the Prize for the book Una suave, tierna línea de montañas azules, byEmilio Jorge Rodríguez, who "traces important chapters in the history of exchanges between Cuba and Haiti through studying Nicolás Guillén's relationship with writers, artists and intellectuals from the Haitian Society…The author documents Guillén's vision of the country, through rigorous research, a rich bibliography, and meticulous use of archive materials…"
Commenting on the title of his Prize winning work, Emilio Jorge Rodríguez, essay writer, literary critic and author of texts such as Literatura caribeña. Bojeo y cuaderno de bitácora andReligiones Afroamericanas,explainedthatit wastaken from a phrasebyGuillén about Haiti in 1943.
Despite being mobbed by colleagues and friends,Rodríguez took a moment to respond to a question by GI as to what inspired him to conduct such an investigation.
He noted that "surprisingly enough there is only one prior reference to Guillén's vision of Haiti, of just one page in a book by Ángel Augier, and I've written 198."
The Casa Prize 2017 is over. After 58 uninterrupted years it continues to attract the attention of authors from the region. Year after year, writers continue to put their trust in the competition and the verdict of judges, for one simple reason: the only thing that counts in this literary competition is quality.