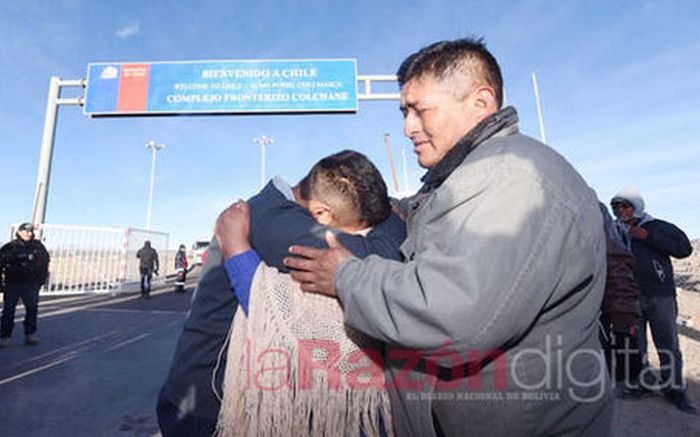 The men, who were detained on March 19 by Chilean police officers, were reunited with their families at the border early on Wednesday morning
Bolivia has been welcoming home the nine officials detained by Chile in a dispute which threatened to escalate tensions between the neighbouring countries.
The men were reunited with their families at the border early on Wednesday morning.
The transfer had been agreed after months of legal negotiations.
The Bolivian President Evo Morales, who strongly condemned their detention and called for their release, is due to meet the men later.
The Minister of the Presidency, Rene Martinez, told a news conference "After the reunion of relatives at the border, we have the translation and transportation of the nine compatriots to a meeting with Bolivian President Evo Morales in the afternoon or at night".
Martinez confirmed that the Bolivian Government had complied with all of the formalities required by the Chilean judiciary to secure their detainees release after they were held in Chile for more than 100 days.
The Bolivian government says the two military and seven officials of the National Customs will be decorated for services to the country.
Bolivia insisted that the detention of the nine men was "unjust and arbitrary".
They were detained on 19 March and accused by Chile of smuggling, theft with intimidation and illegal possession of weapons.
Bolivia rejected the claims, insisting that Chilean police crossed into its territory and detained the officers while they were performing a regular operation against smuggling.
Last week,a court in northern Chile fined the detainees nearly $50,000 and ordered their expulsion from the country.
The money was paid on Tuesday, securing their release.
Taken from http://www.telesurtv.net/english