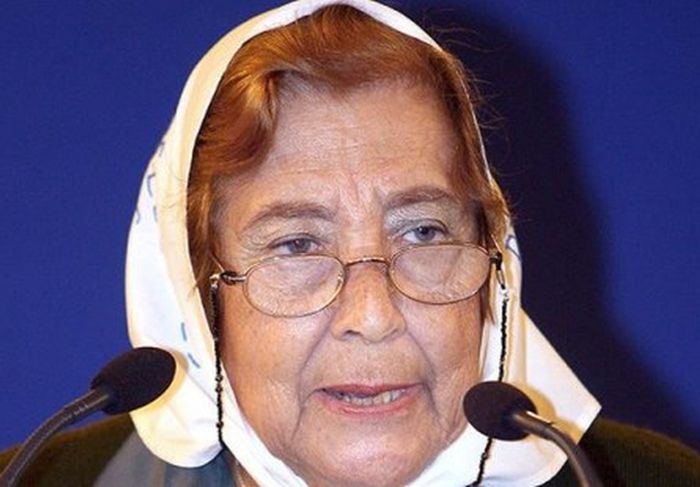 Marta Vázquez was the President of the Mothers of Plaza de Mayo Linea Fundadora
Argentine women struggling to find their children and grandchildren are mourning the recent loss of President of the Mothers of Plaza de Mayo Linea Fundadora, Marta Vázquez.
The activist's death was announced November 19, by the head of the Peace and Justice Service, Nobel Peace Prize winner Adolfo Pérez Esquivel, who described Marta as a "tireless human rights activist," reported PL.
Vázquez passed away at 90 years of age after being hospitalized the previous week due to failing health.
The activist struggled to find the whereabouts of her daughter and grandchild after the young woman (who lived in Bajo Flores and was pregnant at the time) was disappeared during the country's military dictatorship, from 1974-1983.
From 1976 up until her death, Marta and her spouse José María Vázquez had been searching for their daughter and grandchild, however to date, neither they nor those responsible for their kidnapping and disappearance, have been found.
In 1986 she was voted Leading Human Rights Figure by the Argentine government, and lent her voice to the struggle of mothers all over the world. Marta also participated in the United Nations' International Convention for the Protection of All Persons from Enforced Disappearance, which declared enforced disappearance to be a crime against humanity.
"Grandmothers of Plaza de Mayo bids a sad farewell to our comrade María Marta Ocampo de Vázquez, and also to the grandmother of a grandson or granddaughter born into captivity," read a statement from the organization.
In the message Grandmothers of Plaza de Mayo highlighted Marta's warm personality and intelligence. She opened paths and forged ties to discover what had happened to our disappeared children and later expanded the search for our grandchildren appropriated by state terrorism, read the text.
One of the figures to express their condolences following Marta's passing was former Argentine President and recently elected Senator, Cristina Fernández, who took to her Twitter account, where she wrote: "It is with great pain that we bid farewell to Marta Vázquez, President of the Madres Línea Fundadora. Her struggle and commitment: an example to follow."
Referring to Marta and her work, Argentine politician Wado de Pedro also stated: "What to say; a fighter; an example of dignity. To the mothers and grandmothers, know that we are going to continue our tireless struggle for memory, truth, and justice."
The country's former Minister of Education Daniel Filmus noted, "She was one of the first Mothers of Plaza de Mayo and a tireless fighter for human rights and justice. We will always remember her and remain committed to her legacy."
As well as her role as President of the Mothers of Plaza de Mayo Línea Fundadora, Vázquez also led the Latin American Federation of Families of the Detained-Disappeared, where she made an important contribution to drafting the International Convention for the Protection of All Persons from Enforced Disappearance.