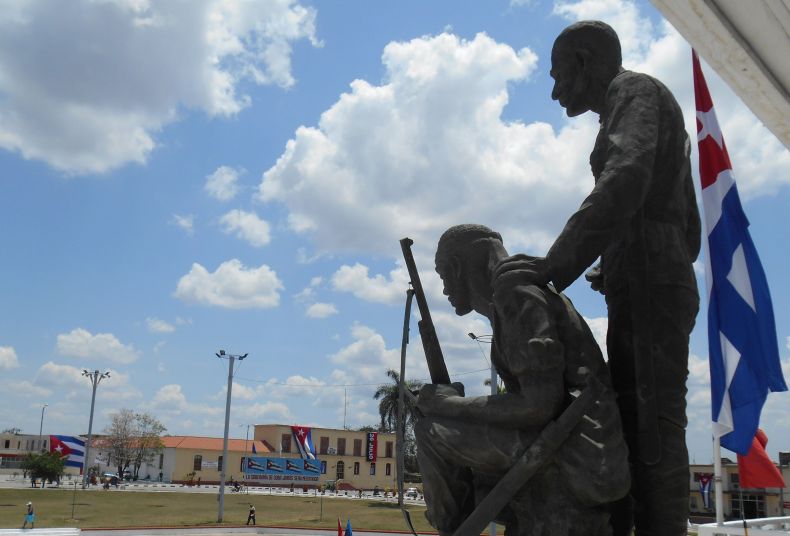 The Major General Serafin Sanchez Valdivia Revolution Square of Sancti Spiritus, central Cuba, is ready to welcome the people who will stage the 1st of May parade next Sunday.
Several Cuban flags have been displayed around the large square, which also exhibits the 26th of July movement flag and giant billboards expressing the commitment of unity and victory of the Cuban people towards the Revolution forged by Fidel Castro.
The same festive atmosphere is shared by the rest of the municipalities of the province, awaiting the celebration of the International Workers' Day, which has been dedicated this year to the 55th anniversary of the Literacy Campaign, the 90th birthday of our historical leader Fidel Castro, and to the recently concluded Seventh Party Congress.
The proletarian march in Sancti Spiritus will be started at 7:30 a.m.  The parade will be led by the workers of the Education, Science, and Sport trade union, who will carry 55 replications of the lanterns used by the volunteer teachers during the 1961 literacy campaign. This bloc will be closed by a large representation of youth including members of the Jose Marti Brigade of Art Instructors, the Technical Youth Brigades, the Hermanos Saíz Association, as well as militaries from the Revolutionary Armed Forces (FAR) and the Ministry of Interior (MININT).
Danilo Zamora Neyra, member of the Provincial Secretariat of the Cuban Trade Union (CTC), also told Escambray about several productive and environmental actions being carried out in the territory on occasion of the 1st of May commemoration.