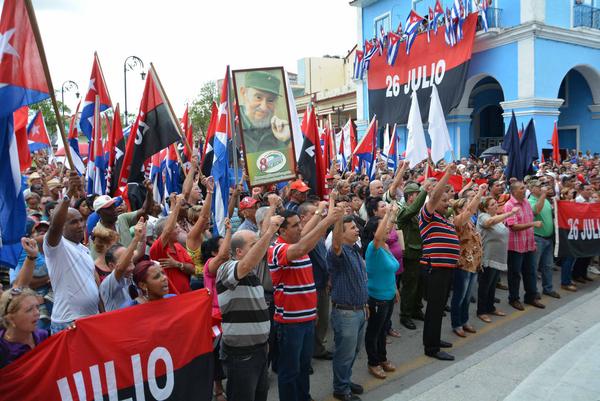 The residents of Sancti Spiritus gathered at the local Serafin Sánchez Park carrying Cuban and 26th of July flags to celebrate the announcement
he Political Bureau of the Central Committee of the Cuban Communist Party announced this Saturday that the province of Sancti Spiritus was elected as major venue for the commemoration of the 63th anniversary of the attack of the Moncada and Carlos Manuel de Cespedes Military Garrisons.
The decision follows the outstanding work of the leaders and people in general in advancing the development of the territory.
The Sunday edition of Cuban daily Juventud Rebelde published an article and a photograph of the territory highlighting the joy of the residents, who gathered at the local Serafín Sánchez Park carrying Cuban and 26th of July flags.
Slogans by Fidel and President Raul Castro were heard during the rally recalling several moments in history in the territory headed by General Major Serafin Sanchez Valdivia during the fight against Spanish colonialism.
The province of Sancti Spiritus has had a sustained increase in its main socio-economic sector including a hike in its production s, advances in food cultivation and sugar cane program according to a communique issued by the Political Bureau.
(With information from ACN)