University students from Sancti Spiritus staged a protest rally to express their support to the Cuban demand of completely eliminating the US blockade of the island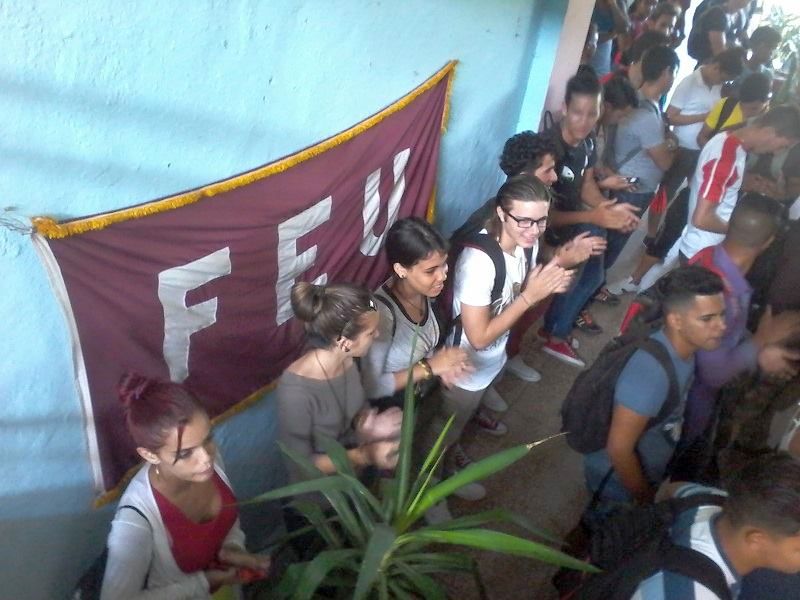 We have proved that we are a formidable hornet's nest of patriotism, that when we reject the economic, commercial and financial blockade we don't use empty or dogmatic speeches, but concrete examples of how much that cruel policy has affected the country.
This was said by Luis Ernesto Camellón, president of the University Students Federation (FEU) in Sancti Spiritus Jose Marti College, in statements to ACN. FEU is a rebel organization, is a revolutionary hornet's nest, he added when referring to the activities carried out by local university students this Monday to reject the US blockade on the island.
During the protest rally staged at the higher learning institution, Castellón also said that the actions performed by the students shows their desire to demand the complete  elimination of such an unjust policy.
The enthusiasm of the young people, in addition to our infinite faith in the Cuban Revolution, validate how much FEU can do for the Homeland, because this organization has always been in the forefront, he stressed.
The university students of Santi Spiritus also expressed their denunciation in a graffiti and a mural painted by guset artists and art instructors. Likewise, their rejection was expressed through social networks, with the  #YoVotoVsBloqueo label.
Taken from ACN and translated by Escambray