With the presence of Army General Raúl Castro Ruz and other family members, the remains of his sister and brother, Angelita and Ramón were buried at the family pantheon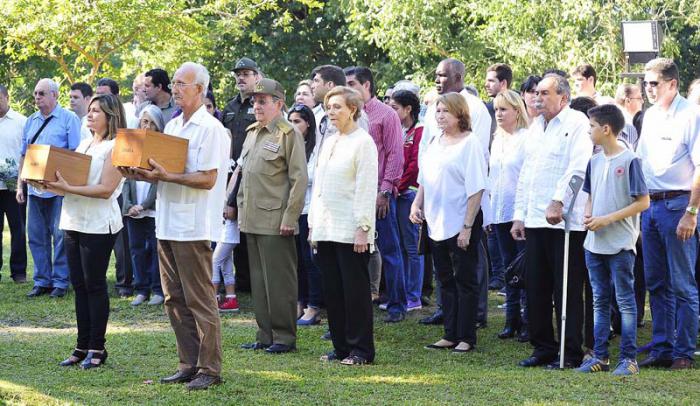 Birán was the starting point. And yesterday, December 6, Army General Raúl Castro Ruz and other family members returned to inter the ashes of his sister and brother, Angelita and Ramón, in the small family pantheon in the shade of the same trees where the history of Cuba's Comandante en Jefe began.
"Angelita, the oldest of the girls and of all the siblings, was the faithful, loving daughter to her parents; Ramón was the only one upon called to serve as the guardian of the land until his final days," said historian Eusebio Leal Spengler, summarizing the lives of these siblings during the simple interment ceremony.
In describing Ramón, Leal recalled his cooperation with the July 26 Movement and his work organizing the networks that supplied the Frank País Second Eastern Front, during the guerilla war. After the triumph of the Revolution, he performed a variety of duties at different levels in agriculture, fundamentally in sugarcane cultivation and cattle ranching.
His contributions earned him many distinctions, among them the honorary title of Hero of Labor of the Republic.
Family members bearing the urns stood before the pantheon; behind them
Raúl and sister Enma; then the rest of the family reunited there. The ashes were placed in the niches where they will rest; a trumpet signaled a moment of silence, followed by the national anthem. The loved ones each said their goodbyes, placing white roses beside the niches.
In the words of Eusebio Leal, Birán was the fruit of many years of work and effort, adding, "Living here is the spirit of this family and millions of persons will come here from all parts of the world, because just a few hours ago, we left the most important of all those born here in a rock, the one who was called upon to chart our destiny."
Angelita died in February of 2012, and Ramon the same month this year. A family decision was made to transport the ashes of the two siblings to be interred here, at the starting point, the turning point, Dr. Leal said, because no other Cuban plantation of this kind existed, with a classroom where the children were educated and learned to love their homeland.
Once, Fidel and Raúl left this home. All Cubans must go, because in Birán, as well, are our roots, our history.