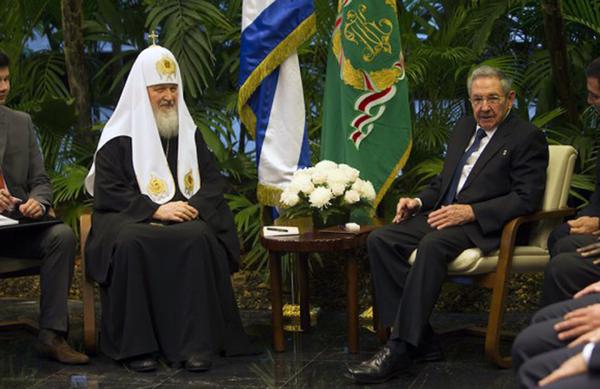 His Holiness Kirill, Patriarch of the Russian Orthodox Church paid a courtesy visit to the Cuban President Raul Castro at the Revolution Palace in Havana city. Both leaders greeted their respective delegations and held a private conversation.
After the meeting, the Cuban President gave His Holiness an art piece named Amanecer (Dawn) by Cuban artist Alexys Leyva Machado, Kcho, the same that created the crucifix Raul gave to Pope Francis during his visit to Cuba last year.
Patriarch Kirill Praises Historical Ties between Cuba and Russia
Kirill described his visit to Cuba, which will last till this Sunday, as a testimony of the friendship between the Cuban and Russian peoples.
After laying a wreath to Cuban National Hero, Kirill arrived in the headquarters of the Cuban Council of State where Raul received him with a strong handshake.