The strengthening of solidarity actions to break the blockade imposed by U.S. on Cuba guides this year the work of the 27th Pastors for Peace Caravan, as it was known at a press conference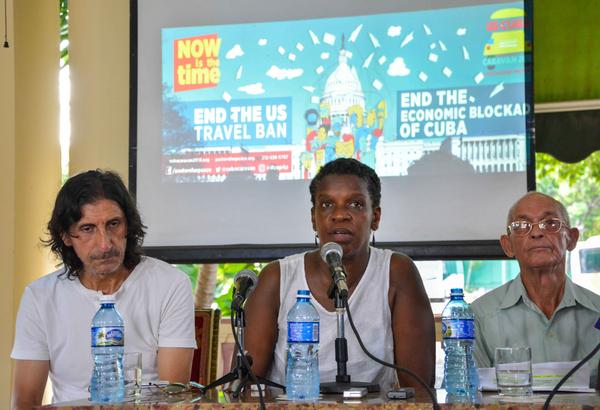 Gail Walker, executive secretary of this project of the Inter-religious
Foundation for Community Organization (IFCO), reaffirmed in this capital the importance of intensifying the struggle in U.S. communities against this unilateral siege.
The daughter of the late Rev. Lucius Walker, the architect of the of
U.S.-Cuba Friendship Caravans, asserted that the organization currently focuses on bringing to the U.S. people real information about the persistent policy, one of the main obstacles in the process towards normalization of relations between Washington and Havana.
We are aware that the collective support of the U.S. community will be necessary, pointed out the activist while acknowledging that, despite changes to the implementation of this policy during the past year, efforts should continue to permanently eliminate it.
Likewise, she acknowledged the need to continue the work of the
organization within the U.S. Congress, because many of the decisions to repeal that framework of laws are "in their hands," she commented.
She also mentioned that accompanying Cuba in its claim for the return of the territory illegally occupied in Guantanamo, where the U.S. naval base is located, is part of the actions of Pastors for Peace.
As head of this edition of the Caravan, whose 41 members arrived in
Havana yesterday, Walker explained that it previously toured 48 U.S. cities, in which public meetings were held to address issues about Cuban reality.
During the conversation with reporters, Thomas Smith, executive member of IFCO, highlighted the ties existing between the Cuban and the U.S. peoples, "so we have to love each other," he said.
The activist stressed that the Cuban community living in the U.S. should also put pressure on the interior of that country to contribute to the elimination of the blockade.
In his words, Rev. Raul Suarez, director of the Martin Luther King Center (CMLK), recalled the legacy of Lucius Walker in current trips that group, which maintains its precepts of love for one's neighbor and solidarity with Cuba, despite the obstacles imposed by the U.S. government.
As part of its program on the island, the Caravan will perform many
activities including visits to community projects and health centers,
exchanges with intellectuals and physicians, and a tour of other provinces.
The organization Pastors for Peace was created in 1988 as a project of IFCO, in response to the aggressiveness of the administration of U.S. President Ronald Reagan in Latin America and the Caribbean, particularly Central America.
The U.S. Friendship Caravans, an initiative materialized in coordination with the Cuban Institute of Friendship with the Peoples, the CMLK and churches in Cuba, began in 1992.