We saw Fidel full of strength, as always, updated as anybody, stated in Havana Nicolas Maduro, president of the Bolivarian Republic of Venezuela, moments before departing back to his country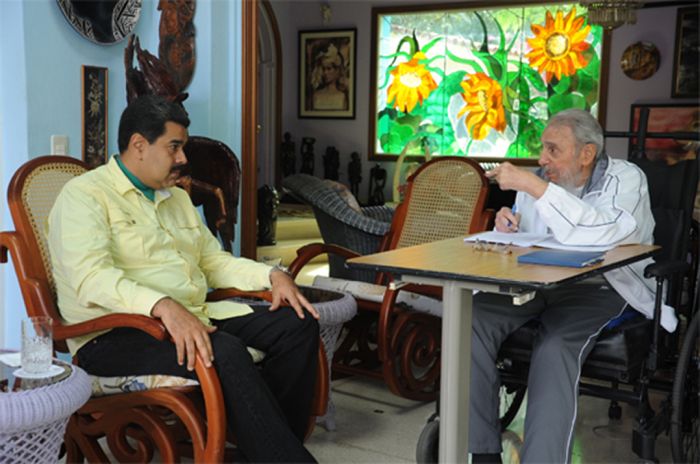 Accompanied by Miguel Diaz-Canel, first vice-president of the Cuban Councils of State and Ministers, Maduro told reporters at the Jose Marti International Airport that the historic leader of the Revolution, Fidel Castro, received him full of optimism.
"When we arrived he was writing some articles, correcting them; we spoke about his vision of the world, of the region, of his huge passion for Bolivar, for the history of the Patria Grande" (Big Homeland), pointed out the president.
Maduro showed the contents of a yellow folder he had in his hands with images that testify to his conversation with Fidel and what he wrote in his own handwriting: "Memories of March. A hug for Maduro and Cilia."
The Venezuelan president said that Fidel is on the alert for the plans of the 14 projects implemented in Venezuela, especially those related to food production, new techniques, "the need to make us independent in the production of seeds and many other things he has always devoted his attention to."
While referring to his official two-day visit to the island, he
reiterated he was returning to his country full of strength and optimism.
It was an extraordinary visit: the talks with Raul, the reception, the
documents signed, the new aspects of cooperation for the joint development we have discussed; it was very exciting because we are moved by passion for the Patria Grande, he highlighted.
Before departure, he sent a last message to the Cuban people: "We leave with you our love, greetings and the usual commitment. My thanks to Raul and Fidel; we will continue.
During his visit to Cuba, Maduro reviewed with his Cuban counterpart the progress of the Comprehensive Cooperation Agreement and received the Jose Marti Order, the highest decoration awarded by the Cuban State.
The Bolivarian president dedicated the Jose Marti Order, conferred upon him on Friday by Army General Raul Castro, president of the Cuban councils of State and Ministers, to the Venezuelan people and its resistance.
Raul reiterated Maduro the unconditional solidarity of Cuba with
Chavez's ideas and the Bolivarian Revolution and with the civil-military union of the Venezuelan people.
Accompanying the president during his stay in Havana were Cilia Flores, the first fighter; Delcy Eloina Rodriguez, sector vice-president of Political Sovereignty, Peace and Security and Mçminister of the People's Power for Foreign Affairs, and by other officials of the presidential cabinet.