The first victim of terrorism against Cuban teachers was Conrado Benitez Garcia, a 18-year-old black man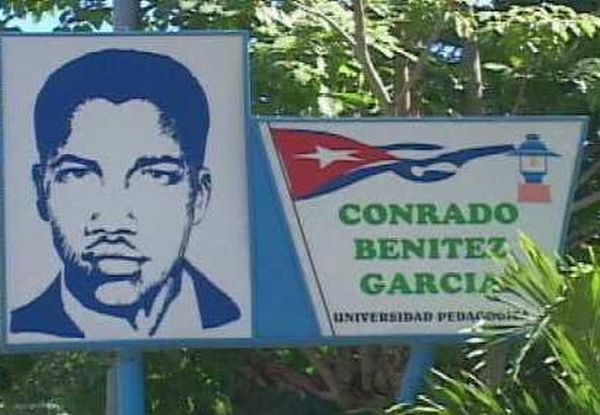 His murderers were members of the major subversive gang which operated in the Escambray mountains, fulfilling instructions of the Central Intelligence Agency (CIA). Cuban farmer Elio­doro Rodríguez Linares (Erineo), 31, was also killed.
This was a reflection of the covert action program against Cuba that had been approved by US President Dwight D. Eisenhower in March 1960, and which, until December 1961, caused 23 deaths and 37 wounded people among students, volunteer teachers, and farmers that supported them.
During his childhood, like other poor children, Conrado earned his living as a shoe shiner, and upon reaching adolescence, he worked in a bakery during the night to help support the family. He was known as a serious and honest young man.
After receiving an elementary training course in Minas del Frio, Sierra Maestra, he was among the first who climbed the Pico Turquino, being afterwards appointed as a volunteer teacher in the Sierra Reunión, in the Escambray mountain range. From there he was transferred to La Sierrita community, where he was in charge of teaching 44 children.
On the night of January 4th, 1961, he was surprised by a group of armed men who beat him, tied his hands, and kidnapped him. After a long and stormy walk until Las Tinajitas, in San Ambrosio, Trinidad, they arrived at the camp where they were expected by Osvaldo Ramirez, who was the head of the gangs in the Escambray.
Conrado was introduced into a cage covered with a wire mesh, where Erineo, a farmer known in the region for his involvement in the insurrection against the Batista tyranny and support for the Revolution, was already kept.
Ramirez promised Conrado that if he joined his forces he wouldn't be killed, but the young man replied that he was a teacher and that he would not abandon his children when they needed him most. Faced with this manly answer, Ramirez got very angry and wrote a note full of hate, racism and anti-communism, in which he predicted the horrible death that would give the teacher.
Early on January 5, Ramirez ordered to take the prisoners out of their confinement to be taken to "trial". They were both accused of being "communists" and supporters of the Revolution.
Being aware of the presence of Cuban militia in the area, Ramirez decided to leave the camp, but first, he ordered the assassination of the two prisoners. The killers had no mercy. They threw stones to the teacher for a while, then they punctured him with knives and bayonets, cut his genitals off, and finally hanged him. The farmer suffered the same fate.
This terrorist act sparked a wave of indignation and patriotic and revolutionary fervour, which made thousands of young people to manifest their disposition to immediately go to the countryside, organized in the "Conrado Benitez" Brigades —which were constituted to honour the murdered teacher— to carry out the National Literacy Campaign.
Taken from Granma and translated by Escambray