Jatibonico del Sur River Basin undergoes Renovation
Work is moving forward on some 30 water supply projects ion the province, including repairs of 11 pump stations and the Siguaney-Zaza River conduit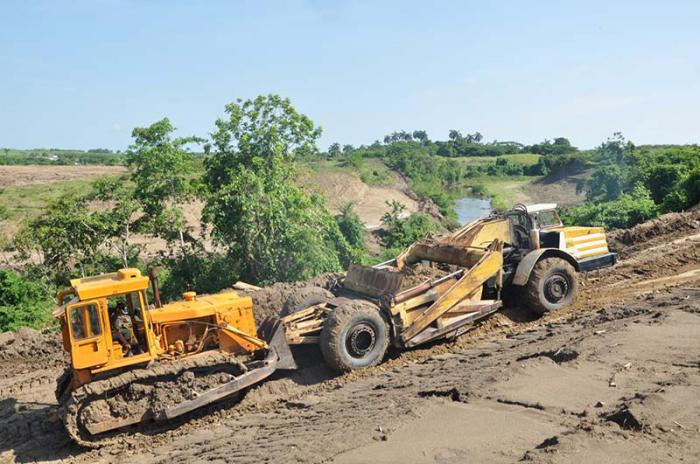 More than 100 million cubic meters of water will be made available to agriculture in the country's south-central region when work is completed by the National Water Resources Institute (INRH) on the rehabilitation of reservoirs in the Jatibonico del Sur River Basin.
INRH representatives in Sancti Spíritus have reported that following the comprehensive repairs of the Dignorah and Lebrije reservoirs, and the Sur del Jíbaro diversion canal, work is underway at this time on an important project at the Felicidad reservoir, which has not been functioning at its full capacity of 57 million cubic meters due to technical problems.
Alberto Eirín, INRH representative in Sancti Spíritus, explained the importance of work on the Basin's infrastructure, which will in turn facilitate work on the Zaza Reservoir's main canal.
Begun in 2014, the Felicidad construction project involves an investment of more than 4.5 million pesos, and includes repairs on the spillway and straightening of the river's course some 800 meters below the reservoir.
Engineer Ángel Martín Linares, project manager, explained that the goal is to get the Jatibonico del Sur Basin system fully operative, to better serve agriculture in the area, including rice production in Sur del Jíbaro and sugar cane around the Uruguay mill.
The three reservoirs in the Jatibonico del Sur Basin are regulated by the Sur del Jíbaro diversion canal, where waters from the Zaza also arrive, to be distributed to meet different needs, he explained.
Eirín reported that work is moving forward on some 30 water supply projects in the province, including repairs of 11 pump stations and the Siguaney-Zaza River conduit; maintenance on the Macaguabo water treatment plant; and a new 1.7 kilometer conduit to reduce losses in distribution to the city of Cabaiguán.
---
---
Make a comment
Escambray reserves the right to moderate comments which are disrespectful, offensive, vulgar, or that attempt against the dignity of either a person or a social group.
The mandatory fields are marked.