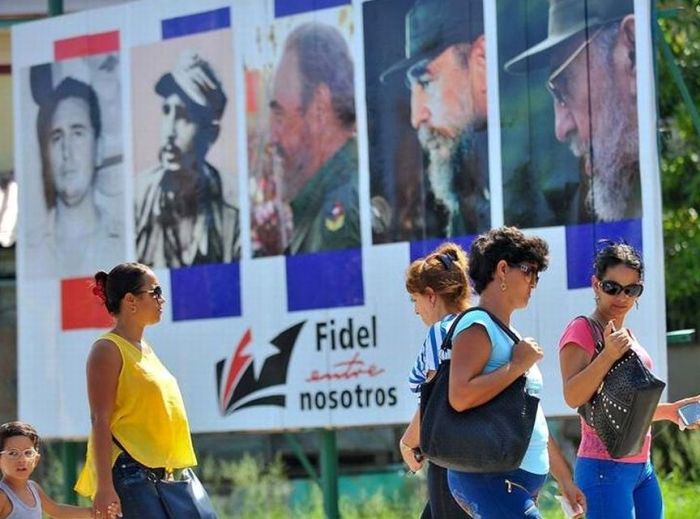 The posthumous tribute that Cubans will give from next Monday to the historic leader Fidel Castro includes the participation of thousand residents of Sancti Spiritus, said to Escambray the organizers of the tribute in this province.
During a working meeting, José Ramón Monteagudo Ruiz, member of the Central Committee and first secretary of the Party in Sancti Spíritus, called to create all the conditions for the ceremony to be the farewell that the head of the Revolution deserves.
Cubans Pay Tribute to Fidel Castro Across the Island
The Man that Makes Cuba Feel Hurt
According to the official program, during Monday and Tuesday the residents of this central Cuban territory will have the opportunity to sign the solemn oath to comply with the concept of Revolution, outlined by Fidel on May 1, 2000, thus expressing our will to carry on with his ideas and with socialism.
Beside the 293 signing sites, there will be 14 areas available to pay homage to Fidel in the capital cities of the eight municipalities of the territory —including the headquarters of the Provincial Committee of the Party—, and in the towns of Meneses, Mayajigua, Zaza del Medio, Guayos, Banao, and Guasimal.
As a continuation of the homage, the inhabitants of the province will also participate on Thursday in the farewell to the ashes of the Cuban leader on their route from Havana to Santiago de Cuba along the Central Highway.
The farewell to Fidel also includes the celebration next Monday morning of simultaneous special meetings in all workplaces.
The burial ceremony of the historic leader of the Revolution will take place next December 4th (Sunday), at seven in the morning, in Santa Ifigenia Cemetery, Santiago de Cuba.