The FC Barcelona striker returns to the summit of the sport after having previously won in 2009, 2010, 2011 and 2012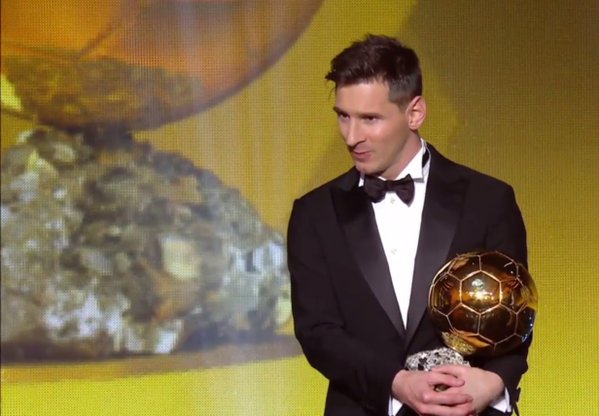 Fifa Ballon d'Or 2015 Votes HERE
In Greek mythology, King Midas will always be remembered for turning whatever he touched into gold. Lionel Messi is sure to be remembered in much the same way.
But while Messi may not be a true monarch, he is the undisputed king of world football.
On Monday evening at the Kongresshaus in Zürich, Switzerland, FC Barcelona's almighty number 10 won his fifth Ballon d'Or, once again reaching the apotheosis of the sport he has long dominated by reclaiming the award he had already won on four previous occasions — astonishingly, all in a row in 2009, 2010, 2011 and 2012.
In 2012 Messi became the first and only player to ever take home the Ballon d'Or four times. Now he has extended his unrivaled feat to five.
In history, only four players have managed to win the Ballon d'Or as many as three times — Cristiano Ronaldo (2008, 2013 and 2014), Marco van Basten (1988, 1989 and 1992), Michel Platini (1983, 1984 and 1985) Johan Cruyff (1971, 1973, 1974). Messi has now put some daylight between himself and them.
Messi was a virtual shoe-in after leading FC Barcelona to another record-breaking run in 2015, during which they won an unprecedented second domestic treble and five major titles.
Messi scored 48 goals in 2015 and spearheaded the so-called trident, FC Barcelona's feared front line, along with Neymar and Luis Suárez.
And if all of that sounds impressive  — and it is — consider this: Messi is just 28 years old.
And he's still at the top his game.
Taken from http://www.fcbarcelona.com