You have just arrived in Sancti Spíritus, where you are acclaimed by an excited crowd on either side of the road. It is not early morning, but you have been awaited since before dawn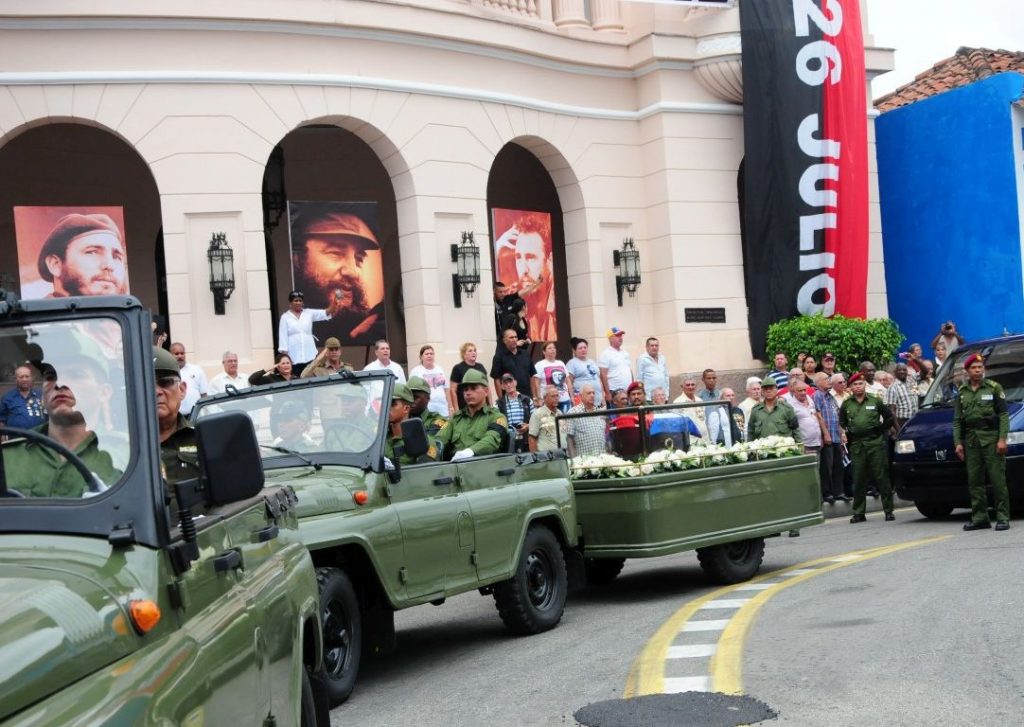 You are anxiously waited for, like that January 6th, 1959, when, on the way to Havana in the Freedom Caravan, you stopped here and said that if cities are worth what their children are worth, Sancti Spíritus could not be just one more city.
Commander in Chief Fidel Castro Pays Last Visit to Sancti Spiritus
Sancti Spiritus: Hasta Siempre Comandante! (photo gallery)
Camilo Cienfuegos Hospital, inaugurated by you on July 26th, 1986, sadly sees you passing by. There are white robes, Commander, in the line of people who greets you this morning, and also people healed thanks to your efforts to provide Cuba with health services. Health and schools, like that yellow color building, similar to the Moncada garrison, located on Avenida de los Mártires (Martyrs' Avenue).
On the way to Serafin Sánchez Park you are escorted by men, women, children, old people. Even blind people and citizens who are unable to walk, are present in this last farewell. Do not be surprised by the crowds gathered here. You are coming dressed in olive green, as in many other occasions, as you did almost always, and then you listen to the people shout ¡Viva Fidel! (Long live Fidel!) or ¡Yo soy Fidel! (I am Fidel!).
Those who escort you are not the bearded ones, although there are some of those who came with you as you traveled full of dreams from your beloved Santiago de Cuba to Havana. This time you are not coming from the East, you are travelling there, and here, in the middle of the archipelago, you stop very briefly, to listen to the National Anthem just in front of the Provincial Library which is named after Ruben Martinez Villena.
That library is not the El Progreso society anymore, once available only for distinguished Cubans, and from where you addressed local residents that January. That building was turned into a place where the universe of knowledge reaches everyone through the books. The books that you hoisted since times of the Moncada. "We do not tell our people to believe, we tell them to read", you said. And the people read, and also believed.
That same people now applaud you, revere you, and are reluctant to say goodbye. There are tens, hundreds of flags held in old, young, infantile hands. Everyone knows that you are not really gone, Commander, and that on your way to eternity, you made a stop to say hi, and to give us the honor to say hi to you in return. And during this brief period of time, as Che Guevara did, we tell you: ¡Hasta la victoria siempre!