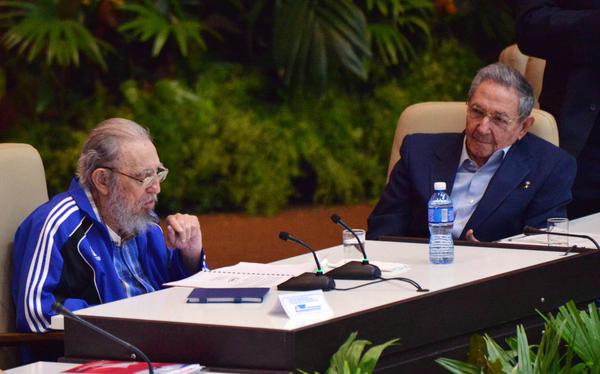 The closing session of the 7th Congress of the Communist Party of Cuba (PCC) was held today in the presence of the historic leader of the Cuban Revolution, Fidel Castro, and the First Secretary of the organization, Raul Castro. Fidel was cheered and applauded by delegates and guests at the Havana's Conference Center, venue of the event since Saturday, April 16.
The congress last session coincides in time with the celebration of 55th anniversary of victory in Playa Giron (Bay of Pigs), when the Cuban people reached victory over U.S.-backed mercenary invasion in what is considered the first defeat of imperialism in Latin America.
During the meeting, participants discussed and approved the Main Report of the event, presented by the First Secretary at the opening session.
The discussion in four committees of important documents related to the future work of the country, such as the conceptualization of the Cuban economic and social model of socialist development and the national development plan until 2030, were carried out at the same time.
According to the report of Commission One, the strengthening and sustainable development of the socialism in Cuba is only possible as of preserving the values and increasing labor productivity, so that the wealth for its fair distribution increases.
Commission Two, in turn, agreed that the national plan will be the leading document of the Cuban planning system and Commission Three ratified the proposed updating of the Economic and Social Policy Guidelines for the 2016-2021 period.
Meanwhile, the decision of Commission Four said the PCC work should be guided by enhancing actions that contribute to preserve and strengthen the patriotic and moral unity of the people around the Revolution and the Party.
(Photos: ACN and Ruben Abelenda)