EU Top Representative Federica Mogherini Meets with Cuba President
During the cordial meeting the two parties were satisfied for the end of the process of negotiations of the Agreement of Political Dialogue and Cooperation between the European Union and Cuba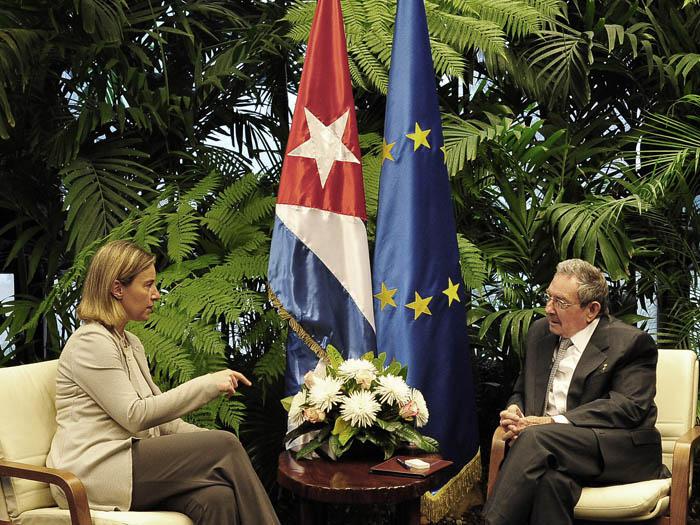 Army General Raul Castro, president of the councils of State and Ministers, received Federica Mogherini, high representative of the European Union for Foreign Affairs and Security Policy, and vice-president of the European Commission, who is on an official
visit to Cuba.
During the cordial meeting, held on Friday, the two parties were pleased about the end of the process of negotiations of the Agreement of Political Dialogue and Cooperation between the European Union and Cuba, and ratified the willingness to continue working for the strengthening of bilateral relations based on equality, reciprocity and mutual respect. They also
tackled different topics of interest on the international agenda.
Cuban Foreign Minister Bruno Rodriguez also took part in the meeting.
Cuba, EU Redacted Text for Political Dialogue Agreement
Cuba and the European Union (EU) finished the redaction of the document for the Political Dialogue and Cooperation agreement aimed to consolidate the bilateral relations in medium and long term, on the basis of respect, reciprocity and mutual benefit.
With this event, held at the headquarters of the Cuban Foreign Ministry, the parties witnessed the conclusion of negotiations taking place since April 2014, and initiated a consultation process to give a final approval of the document.
At the completion of the 7th session of the ministerial political dialogue between the block and this country, both delegations pointed out that once it enters into force, the agreement will be the framework for the development of links between Cuba and the bloc and their countries members.
The High Representative of the Union for Foreign Affairs & Security Policy, Federica Mogherini, described the successful conclusion of the talks as a historic step in bilateral relations.
She stated it marks the beginning of the end of the so-called common position adopted by the bloc in 1996 for its relations with Cuba, and announced she will propose to initiate a parallel process to repeal the policy.
Cuba and the EU have held six previous sessions of ministerial political dialogue in October 2008, May and November 2009 and June 2010 with the respective six-month presidencies of the block: France, Czech Republic, Sweden and Spain, and in February 2011 with the then High Representative, Catherine Ashton.
The 6th session was held in Brussels in April 2015.
---
---
Make a comment
Escambray reserves the right to moderate comments which are disrespectful, offensive, vulgar, or that attempt against the dignity of either a person or a social group.
The mandatory fields are marked.