Esteban Lazo, president of the National Assembly of the People's Power, received Igor Crnadak, minister of Foreign Affairs of Bosnia and Herzegovina, in the context of his official visit to Cuba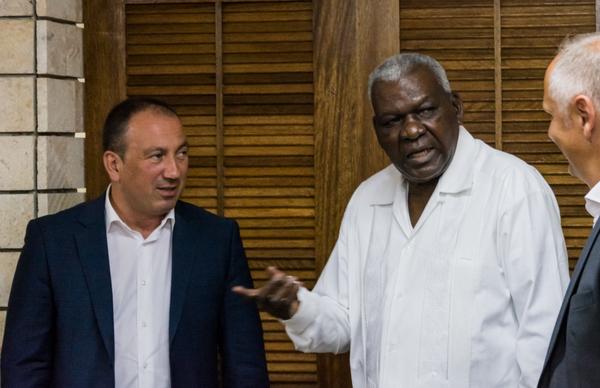 During the meeting, held on Friday in this capital, the head of the
Cuban Parliament highlighted the links existing between the two peoples,
supported by traditional ties of friendship, while recognizing the
importance of deepening ties in other areas beneficial to both countries.
Lazo also expressed gratitude for the support of the Government and
people of Bosnia and Herzegovina of its struggle for the lifting of the
economic, commercial and financial blockade imposed by the United States for over half a century.
The European Foreign Minister (FM) referred to his fruitful schedule in
Havana, where he has verified potential to increase relations and
cooperation in areas such as health, one of the sectors in which Cuba has
made significant achievements, he acknowledged.
In the economic sphere, he announced the intention to send a delegation
from his country to participate in Havana's International Trade Fair, to
be held from October 31 to November 4.
Also on Friday, the visiting FM of Bosnia and Herzegovina held talks
with his Cuban counterpart Bruno Rodriguez, in which they reviewed the state of bilateral relations and agreed on the relevance of extending them.
The two officials also stressed the importance of this visit, the first
by a Bosnian FM to the Caribbean island.
As part of his program in Cuba, Crnadak also met with the ministers of
Health and Foreign Trade and Investment, Rodrigo Malmierca and Roberto Morales, respectively.
He is expected to visit the Center for Genetic Engineering and Biotechnology, an institution that recently celebrated 30 years of existence
and that stands out for the production of vaccines for therapeutic use and
other drugs that are leaders worldwide, such as Heberprot-P, for patients
with diabetic foot ulcers.