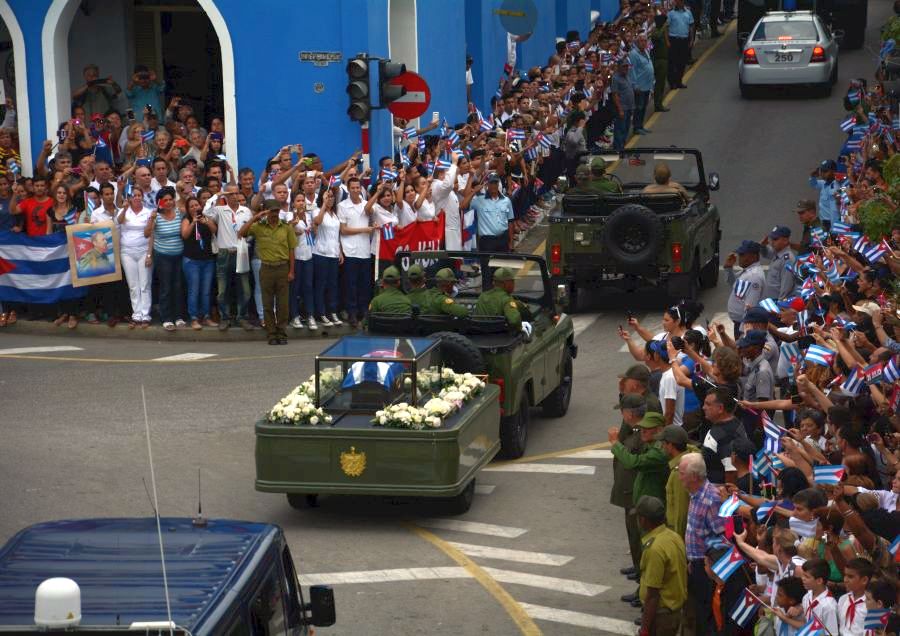 Escambray reproduces the messages received from people from all over the world on occasion of the passing of Fidel Castro, occurred last November 25th
Mel Carpen (USA): To all my Cuban friends and the world. Very sorry for your loss.
Pt. Kuldeep Vyas (India): End of an era..Rest in power, comrade #FidelCastro! Your legacy will inspire people for generations to come #RedSalute #LongLiveRevolution. I'm deeply pained to hear that comrade Fidel Castro is no more amongst us. Wish I could be there with you..
Richard Babin (Canada): This morning @when I heard the news, I had to awake my wife and announce that El Comandante had passed away. She was in obvious shock, and she requested I bring her our baby (3 year old daughter) that she held close to her. Sadly I had to go to work. This is a difficult day for all Cubans, home and abroad. And those of us that have ties to Cuba through matrimony or friendship, we grieve you all.
I was born a critical thinker. I grew up defending the less fortunate and stood up to bullying all of my life. I was always ready to share the little I had, to give without attached conditions. I knew nothing about left or right, socialism or capitalism. I just was who I was. Why did I admire such men as Fidel Castro and Che Guevara as well as some of our french Canadian brave who exposed themselves to ridicule for defending their altruist ideas. Then I married into the Cuban Revolution and will defend and promote it's merits everywhere. Hasta la Victoria Siempre.
Bruno Garbero (Italy): El unico dolor que tengo e' por el pueblo Cubano. Viva Fidel.
Jacques Poirier (South Africa): To all my Cuban friends and the world. Very sorry for your loss.
Inderjeet Heralall (USA): Millions of Cubans in Cuba loves and adore him while a bunch of Cuban assholes in the US despise him.
Richard Babin (Canada): Fidel's words will live forever. But now it is our turn to convey the message and more important through actions. Juntos venceremos!
Rodney Pheto (S.A. doctor who studied in Sancti Spiritus, Cuba): Mi Pueblo Mi Ciudad.Un paso más.Viva Sancti Spiritus.Viva Fidel Viva!
Kết Nguyễn (Viet Nam): Vĩnh biệt Ngài (Goodbye Mr.)
Pedro Alba Gil (Dominican Republic): Paz a su alma. Mis más sinceras condolencia a tu pueblo a través de ti Y mis condolencia a ti… amiga
Jorge Antonio Andrade Collazos (Colombia): Lamentando el fallecimiento de FIDEL
Messages received via e-mails:
A. Falcon Melendez: Con tu partida aumenta tu figura y podemos ahora todos verte de un principio hasta el final de tu vida. Comandante revolucianarion, lider cubano, antillano, latioamericano, mundial.
Jean R.Viel: Very saddened by this news. Although it was imminent since his health has been deteriorating but it was not easy. You died but the legacy you left will be forever. Many thanks for the support you have provided to the country of Haiti, the thousands of Haitians you trained as medical doctor in your country to name a few. Rest in peace el commandante.
David Blomstrom: Fidel Castro, Che Guevara, Hugo Chavez and Muammar Gaddafi are among history's greatest, most inspirational leaders.
Nikos Retsos: Cuba will go on with Raul Castro and then his successor, who I expect will be a nationalist too! As for Trump's threats, Trump is just a swashbuckler that can only spit out insults, and anything that he feels would sound good to his American supporters – generally right-wing thinkers who are still rusting in the "wild west" U.S. colonial thinking that was: "The weak shall die, and the strong shall thrive." Trump feels that he can pull any weak nation from the nose, the typical U.S. president's thinking, but he and all his predecessors have been clueless for the high anti-Yankee climate in Latin America that still see the arrogant "Gringos" in the North as the malaise of the Continent. That is why in the last 40 years the Latin Americans have elected 8 socialist presidents who have replaced the pro-U.S. dictators of the 1960s, 70s, and 80s. That fact speak for itself about the U.S. diminishing influence in Latin America. Cuba's revolution was about closing down the U.S. hotels, casinos, and bordellos -like those in Vegas nowadays- and Cuba won't take orders from a Las-Vegas type hotelier president-elect with "Gringo" arrogance to spare. The Cuban revolution will adopt to the 21st Century reality, something Raul Castro has done already, but it won't "Cry Uncle" to the Gringo bully in the North!
Nikos Retsos, retired professor, Chicago
Sam: He's was real men unique he was first say no to America.
Stephen Paulmier: Fidel, your commitment as a Marxist-Leninist inspires the class that made you. Your unfailing confidence in us describes the same discipline that characterizes our history of struggle and which informs and empowers us. The life that is now complete, nearly a century of agent experience and collective effort in the righteous struggle to embrace responsibility on the terms of human maturity has its reward in the nation of the Cuban people schooled in an ethic grounded in understanding and dignity.
The beast of an old corrupt system quakes in fear and panic at the example your labors have left in this world. The children of humanity are endowed with a legacy of their own making through your articulation of the theory and practice of scientific socialism. We correctly take a giant step forward toward the new age of worker hegemony. We honor your contribution at this special moment by making concrete the gains in political power and class consciousness your life has inspired. We pledge our undying allegiance to this humble and extraordinary member of our class.
Miguel Maldonado: Mi mas sincero pésame al pueblo cubano por la muerte del héroe revolucionario Comandante Fidel Castro. Mi primer pensamiento de Fidel cuando yo era niño era de temor por toda la desinformación que era propagada en mi país El Salvador. a través de mi vida me he dado cuenta que Fidel Castro representa las aspiraciones de los pueblos del mundo que han sido torturados por un capitalismo que es la herramienta de los mas ricos para subyugar las aspiraciones de todos los pueblos del mundo. La acumulacion de las riquezas de nuestro planeta representa una amenaza para el bienestar de los humanos y la fauna. Un consumerismo desmedido que acaba con nuestro ambiente natural y pone en peligro nuestro planeta.
A Fidel se le acusa de ir contra los derechos humanos aunque su principal acusador son los Estados Unidos, dicho país que a boicoteado la nación cubano estos últimos 50 años en todo aspecto económico social y politico usando los exiliados cubanos que eran los que apoyaban a Fulgencio Batista el ex dictador cubano apoyado por los Estados Unidos y sus mafias.
La herencia de Fidel Castro es de independencia nacional como país y como humanos. La educación y la salud.
RIP Comandante
International Committee for Peace, Justice and Dignity: No words necessary (Images of the Cuban people paying tribute to Fidel, their beloved leader)
International Committee for Peace, Justice and Dignity: Fidel's final journey to Santiago in photos
At the end of the battle,
and the combatant dead, a man came unto him
and said 'Do not die, I love you so much!'
But the corpse, alas, kept on dying.
Two men approached and repeated:
'Do not leave us! Be brave! Come back to life!'
But the corpse, alas, kept on dying.
Twenty, a hundred, a thousand, half a million came toward him,
shouting: 'So much love, and nothing can be done against death!'
But the corpse, alas, kept on dying…
Poem of Cesar Vallejo