Pinar del Rio beat Ciego de Avila 8-7 and added its second victory against three losses in the final play off, intensifying thus the fight for the title of the Cuban baseball championship in its 55th edition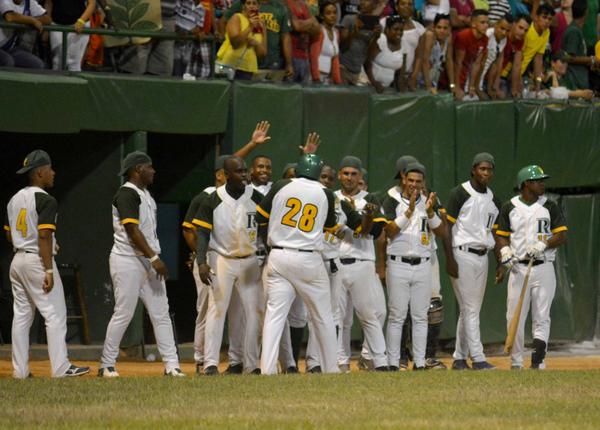 After losing in the first three games of the series for the crown of Cuba's national pastime, Pinar del Rio achieved its second straight win, supported in an offensive of 12 hits and the performance of pitchers Vladimir Baños, Yaifredo Dominguez and Livan Moinelo.
In match held at Capitan San Luis stadium, in Pinar del Rio, the starter Baños was the winner when allowing four hits and three earned runs in five innings, while the defeated, Lazaro Blanco allowed eight hits and five runs in four innings.
Second baseman Andy Sarduy, who hit 3 for 3 with a double, a triple and four RBIs, supported by two RBIs per capita by Yosvani Alarcon, Michael Gonzalez and Reinier Leon, were the offensive highlights for the winning side.
Ciego de Avila managed to score one run in each of the first two innings and everything looked bad for the locals as Vladimir Baños seemed not to have a good night.
But Baños recovered himself from an uncertain start and starred a solid pitching performance from 3rd to 5th innings, while his teammates managed to tie the sore in the 4th thanks to a double by Sarduy with the bases loaded.
Blanco left the mound in the fifth inning when Pinar del Rio took advantage of his lack of control and that of relievers Dennis Castillo and Yasmany Insua to score decisive cluster of five runs, product of three hits, as many walks and an error.
Ciego de Avila loaded the bases in the sixth and that was all for Baños, but the Tigers could only score once as reliever Yaifredo Dominguez forced Yeniet Pérez to hit for double play, and then Yoelvis Fiss also failed in harmless rolling to shortstop.
Pinar del Rio added one in the bottom of the seventh inning, driven in by sacrifice fly by Reinier Leon, run that proved decisive in the end, as Ciego de Avila managed to score a four-run cluster in the ninth and threatened to tie the game.
In the ninth, Ciego de Avila took advantage of Yaifredo Dominguez's lack of control, and thanks to a single, four walks and an error reduced the deficit to a minimum, but the closer Livan Moinelo guaranteed Pinar del Rio´s success by striking out the dangerous Jose Adolis Garcia and Ariel Borrero.
Dominguez relieved for three innings allowing two earned runs and three hits, while Moinelo pitched an inning with two strikeouts and a walk to take the save.
The final play off of Cuban baseball championship will be resumed on Friday at Ciego de Avila's Jose Ramon Cepero stadium, where the local squad will use the right-hander Dachel Duquesne as starting pitcher, while the ace Yosvani Torres will be Pinar del Río´s starter.