Cuban Foreign Minister Bruno Rodríguez Parrilla, stressed the importance of the Non-Aligned Movement (NAM) on arriving to participate in the 17th NAM Summit, in session through September 18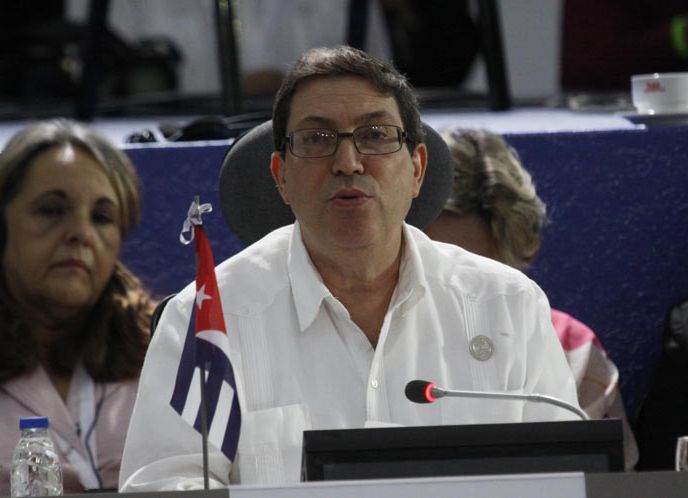 "Non-alignment has huge historic merits, but also remains fully valid," Rodríguez stated on arriving to Margarita Island. Referring to the issues to be discussed during the multinational event he added that "We must defend independence, sovereignty and self-determination, through unity and consensus."
"A revolutionary, anti-imperialist and solidary embrace for the Venezuelan people," he emphasized, and wished the Bolivarian Republic well in its presidency of the Movement, which it will assume during the Summit. "Venezuela will receive the presidency and will do so successfully. It will be a victory of the Venezuelan people," he noted.
Bruno Rodríguez will participate today and tomorrow in the political debate "Peace, sovereignty and independence", as part of the Meeting of Foreign Ministers, which precedes the Conference of Heads of State, scheduled for this Saturday and Sunday.
The second day of the Summit saw the conclusion of the Meetings of Senior Officials, in which the document to be discussed and approved by foreign ministers and heads of state was drafted.
Venezuela was elected as coordinator of the political, economic and social commissions of the Movement, an aspect which, along with the massive participation of visiting delegates, host Foreign Minister Delcy Rodríguez described as recognition of the diplomacy of peace promoted by the country, contrary to right wing attempts at isolation.
"Those transnational media outlets that sought to cast a shadow over Venezuela in order that this Summit could not take place have been defeated today, with the massive presence of all the delegations of the Non-Aligned Countries," she stressed.
Rodríguez also took to Twitter to condemn the political maneuvering of the right wing alliance of Brazil, Paraguay and Argentina, whose governments signed statements which once again question the legitimacy of Venezuela assuming the rotating presidency of Mercosur; in what can be considered an opportunistic attempt to discredit the Bolivarian government in the midst of the NAM Summit.