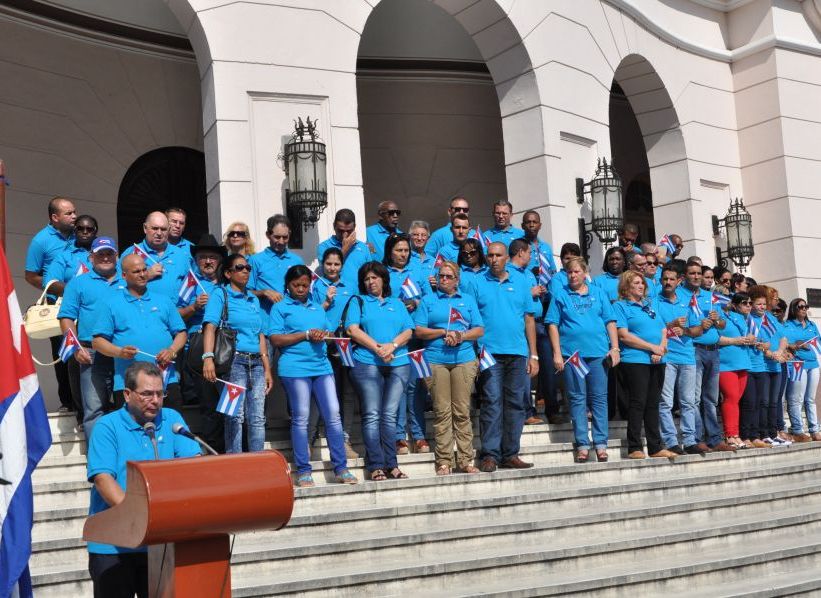 The Seventh Congress of the Communist Party of Cuba, considered a significant event for the country, starts today in Havana's Convention Center with the participation of representatives from all provinces of the island, including the 47 delegates and three permanent guests elected in Sancti Spiritus.
Prior to their departure for Havana this Thursday morning from the local Serafín Sánchez Park, the representatives of this central Cuban province, held meetings with co-workers and neighbors, with whom they exchanged views.
Cuban Society Largely Represented in Communist Party Congress
These delegates were chosen taking into consideration the proposals first made in the party organizations at grass root level, out of which a candidate list was made in each municipality, which was later on submitted for consideration with the general secretaries of the party organizations in each territory.
The event, attended by 1 000 delegates and 280 guests, is the closure of a Party process started in January 2015. Topics such as the progress of the economy during the 2011-2015 period of time, the implementation of the Guidelines of the Economic and Social Policy of the Party and the Revolution, the economic and social development program until 2030, and the level of fulfilment of the goals set at the First National Conference of the Party will be analyzed.
Prior to the congress, the members of the Sancti Spiritus delegation studied the documents to be discussed at the meeting and had the opportunity to comment on them. In these meetings they were accompanied by leaders of administrative and mass organizations, professionals from different spheres, including the non-state sector, combatants of the Cuban Revolution and deputies to the National Assembly of People's Power.
The delegation representing the province at the Seventh Party Congress also toured centers of socio-economic, cultural and historical interest of the territory and received information about the results of Sancti Spiritus in the last five years. They also performed voluntary work in agriculture and food related areas.