Palmiro Leon Soria Saucedo, Bolivia's ambassador to Cuba, received in this city the Friendship Medal from the hands of Bruno Rodriguez Parrilla, Cuban Minister of Foreign Affairs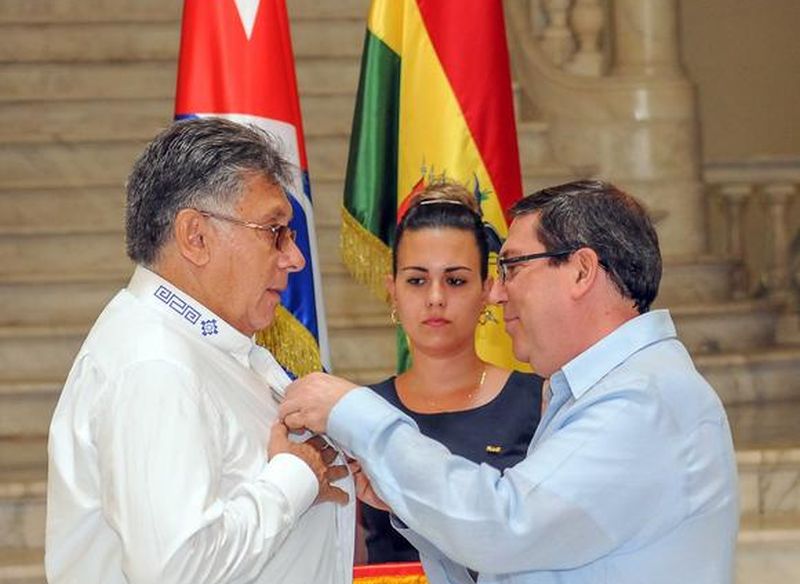 Today we share the honor of recognizing the outstanding work that for five years Palmiro has done, as a symbol of friendship between our peoples, Manuel Aguilera de la Paz, director general of the Bureau for Latin America and the Caribbean of the Foreign Ministry, said at the ceremony.
He also ratified the excellent state of relations between the two countries and Cuba's gratitude to the honoree, "who with his loyalty and support defended the truth of his Revolution with the same dedication with which he defended our principles," the official noted.
Soria Saucedo added reasons to serve from his land to Cuba, and recalled how at very young age he joined the process of political and economic transformations in Bolivia.
He stated that being ambassador to Cuba is a privilege, a great honor, for the love of the people, and his performance in enriching the culture of the Bolivian people; and stressed the need to build bridges for a more effective exchange, based on the continuation of the Latin American and Caribbean fraternity.
I humbly accept this medal, as a disciple of Evo (Morales) and as gratitude to these five years here that made me trust in brotherhood and common values, to continue supporting the Community of Latin American States (CELAC) as guarantee of Latin American people, he said.
Members of the diplomatic corps of Bolivia thanked Cuba for the way they had been welcomed, by the feat of graduating more than five thousand doctors at the Latin AmericanSchool of Medicine, most of them of humble origin, and its humanitarian service with Yo si puedo mission, with which 960 000 people were alphabetized in Bolivia.
The activity was also attended by Jose Ramon Balaguer Cabrera, head of the International Relations Department of the Party Central Committee Secretariat; Homero Acosta Alvarez, secretary of the State Council, and other Bolivian officials in Havana.