Bruno Rodríguez Parrilla, in his speech at the 17th NAM Summit in Isla Margarita, Venezuela, noted that peace, international security and cooperation are yet to be achieved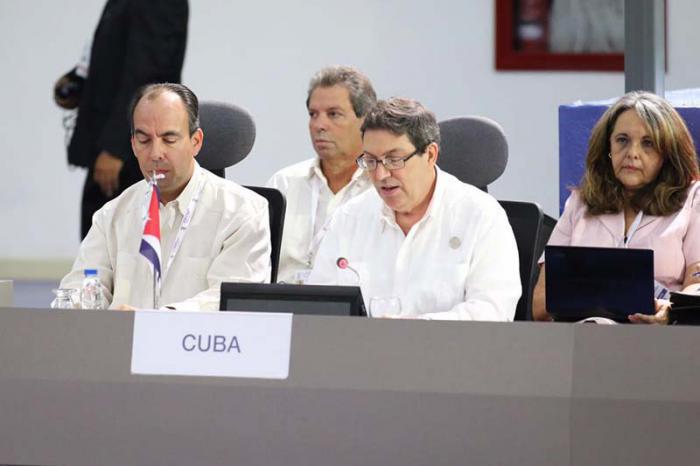 Cuban Foreign Minister Bruno Rodríguez Parrilla, speaking September 16 on Margarita Island, noted that the majority of the principles of the Non-Aligned Movement (NAM) adopted in the Summit in Havana 2006 "are systematically violated".
"Respect for the sovereignty and self-determination of the peoples and equal sovereign rights not only have not been achieved, but the acts that violate these fundamental precepts are worse each day," he stressed, speaking during the Meeting of Foreign Ministers of the Movement founded in 1961.
The Foreign Minister stated his concern that peace, international security and cooperation are yet to be achieved
"War, aggression, soft coups and attempted regime change are a constant," he said, highlighting the current destabilization attempts against the constitutional government of Venezuela.
He reiterated "Cuba's complete solidarity with the Bolivarian Revolution currently struggling, alongside its legitimate president Nicolás Maduro Moros and the civic-military union of its people."
Rodríguez also noted that the Declaration of Havana established that all countries should abstain from exerting pressure or coercion over any other, including the implementation and / or promotion of any unilateral coercive measure contrary to international law.
"The economic, commercial and financial blockade imposed by the United States of America against Cuba persists, harms the Cuban people and is the very antithesis of this principle," he stressed in this regard.
Although the main objectives agreed in 2006 are yet to be achieved, the Non-Aligned Movement has been maintained, "despite the voices that predicted its disappearance," Rodríguez highlighted.
However, he stressed the need to work together "in defense of sovereignty and international law even when this entails open confrontation with the hegemonic interests and pretensions of the great powers."
He referred to the context in which the NAM was founded, when countries of the South were in need of a profoundly anti-colonialist, anti-imperialist and anti-racist bloc, to defend their sovereignty and self-determination, justice and international law, and work toward the peaceful resolution of conflicts and disarmament.