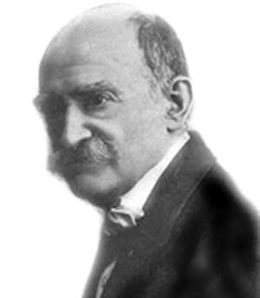 Aniceto Valdivia y Sisay de Andrade (Count Kostia) was one of the most interesting personalities of the Cuban cultural life during the last decades of the XIX and XX centuries
Alejo Carpentier —the Cuban novelist who enriched Latin American literature with his style of magical realism and who is considered one of the leading figures of the Spanish-American literature in the twentieth century—, modestly confessed in 1941 his encounter with Count Kostia, when he was just a newcomer to Havana's intellectual world.
At the time, Carpentier knew almost no one. That's why he decided to seek the advice of already established artists and paid a visit to Aniceto Valdivia (Count Kostia). He was a poet, playwright, critic, journalist, and one of the most interesting personalities of the island's cultural life during the last decades of the XIX and XX centuries.
But Aniceto Valdivia y Sisay de Andrade did not only shelter the author of El reino de este mundo (The kingdom of this world). It is said that he also was close friend of Julián del Casal, one of the founders of the Spanish-American modernism, and considered among the greatest Cuban poets of the nineteenth century. This way young Carpentier could get acquainted with the work of Charles Baudelaire, Rimbaud and other French writers who greatly contributed to the modernization of his poetry.
Count Kostia witnessed a time of great cultural events in Cuba. At the end of the nineteenth century, he covered the first exhibitions of the cinematograph. Despite it was a brand new expressive means, Kostia dared to predict its durability over time, to see possibilities for improvement and even to consider it as an artistic manifestation.
Although writing was not his most significant work, Aniceto Valdivia is included —along with Cirilo Villaverde, Ramon Meza and several other eminent writers of the time—, among the 19 Cuban authors who published in 1887 Los cuentos de La Habana Elegante (The tales of elegant Havana), which are considered as founding texts since nothing of this kind had been written before.

FROM MAPOS TO THE WORLD
Aniceto Valdivia was born on April 20th , 1857, in the former Mapos Sugar Mill, current municipality of La Sierpe, in Sancti Spiritus.
His father, a military doctor serving the Spanish crown, was transferred to Santiago de Cuba when his son was just a child. At the age of 14, Aniceto moved to Spain. Once there, he enrolled at the University of Santiago de Compostela and a decade later he got a law degree in Madrid.
He soon began working in newspapers, where his articles became quite famous. His knowledge and distinction allowed him to quickly expand his collaborations to various publications in Madrid.
It was in that city, in early 1880, where his drama in verse and in three acts Senda de abrojos (Road of thistles) was first announced. La ley suprema (The supreme law) and La muralla de hielo (The wall of ice) were two other plays premiered in Madrid. At this time, the young playwright was involved in public controversy brought by an alleged plagiarism of the famous writer Ramon de Campoamor.
After a brief stay for an administrative position in Puerto Rico, Aniceto Valdivia returned to Cuba, where he collaborated with different newspapers. He went to work in Constantinople for a while, and gave journalistic coverage to the Paris Exhibition in 1890, and to the famous carnivals of Nice and New Orleans, among other cultural relevant events.
He was sent to jail because of writing separatist articles. It was in prison where he began to use the nickname of Count Kostia, which he took from Víctor Cherbuliez's novel of the same name. This way he could hide his identity to continue writing his opinions against the Spanish Colony.
He temporarily worked in diplomatic services in Brazil and Norway, where he became involved in new literary and press experiences. In the Scandinavian nation he developed a brilliant historical study and was awarded the Grand Cross of Olaf. He was also recognized by French scholars because of the translations made to authors like Victor Hugo, Theophile Gautier, and Charles Baudelarie, among others.
Count Kostia died in 1927. His solid work, scattered in n ational and foreign media for over five decades, is unfortunately almost unknown.
Note: In order to write this review, the author consulted dozens of texts about Aniceto Valdivia which are published on the Internet, particularly the study "Conde Kostia y Ruy de Lugo Viña: Voces en el tiempo" by Ariel Lemes Batista.