Current monarch Ciego de Avila will seek today the final victory to access for the second consecutive year to the title discussion of the Cuban baseball championship after beating Industriales 2-1 yesterday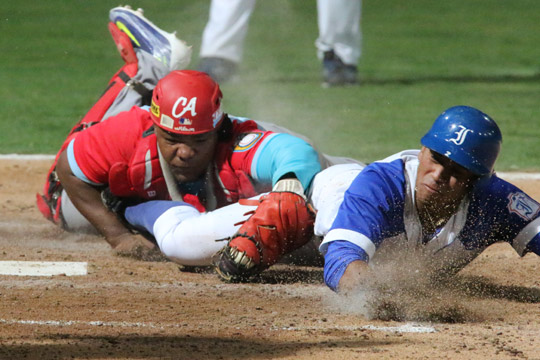 The Ciego de Avila Tigers added their third win without loss in the semi-final play off against the squad from Havana, with solid pitching performance of the duo Lázaro Blanco- Yunier Cano, and offensive highlight of second baseman Raul Gonzalez.
In game held at Latinoamericano Stadium in Havana, Blanco allowed four hits and one earned run in six innings and two thirds in which he struck out three rivals with four walks, while Cano allowed three hits in two and a third innings.
The veteran lefty Norberto Gonzalez took the loss by allowing two earned runs in four innings and a third, while Miguel Lahera starred a spectacular relief with 14 batters retired by their order, including six strikeouts.
The disciples of Javier Mendez took the lead in the third inning by scoring one run driven in by first baseman Alexander Malleta, but Ciego de Avila responded in the fifth when Raul Gonzalez hit a two-RBIs double.
Industriales threatened to equalize the score in the seventh and ninth innings, but both times the shortstop Jorge Enrique Alomá was victim of accurate defensive plays when he tried to score.
The game amazingly finished in the ninth when PH Javier Camero doubled with Aloma on first base who was out in home for the second time and Camero himself incomprehensibly was out trying to reach third base.
Both teams will face each other today again in the same venue, where Industriales will depend on right-hander Frank Monthiet to try to stay alive in the playoffs, while Vladimir García, who already won the first game of the series, will be Ciego de Avila's starting pitcher.