Ricardo Cabrisas Ruiz, vice-president of the Council of Ministers, welcomed this Monday the Governor of the U.S. State of Virginia, Terry MacAuliffe, who currently pays a working visit to the Caribbean island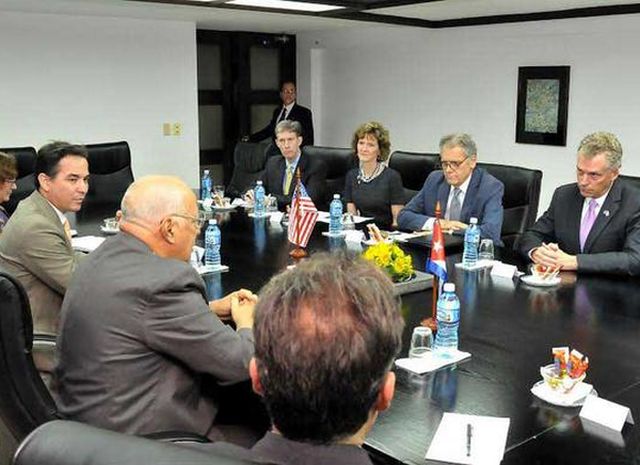 During their meeting the two leaders discussed the updating of Cuba's economic model, the country's foreign trade policies, and the opportunities for trade and investment currently available to international businesses, as well as the obstacles created by the blockade which U.S. companies continue to face.
Additionally in attendance was Jeffrey De Laurentis, chargé d'affaires at the U.S. embassy in Havana, as well as other members of the delegation from Virginia.
Also participating on the Cuban side were Gustavo Machín Gómez, the Foreign Ministry's deputy director general for the United States, and other officials from that ministry, as well as that of Foreign Trade and Investment.
McAuliffe is the fourth U.S. governor to visit Cuba, following those from the states of New York, Arkansas and Texas, and was accompanied by his state's secretaries of Agriculture, Technology and Health, in addition to representatives from the University of Virginia, and other officials.
Terry MacAuliffe Calls for Lifting of U.S. Blockade on Cuba
Terry McAuliffe, governor of the U.S. state of Virginia, called for an end to the blockade, and all regulations which limit trade between Cuba and the United States, yesterday January 4 in Havana.
McAuliffe, who arrived in the country on Sunday the 3rd for a three-day visit, accompanied by a delegation of business people from his state, met with Cuban officials, including Minister of Foreign Trade and Investment Rodrigo Malmierca. He commented that his position against the blockade has always been clear, and that he has advocated its lifting as president of the Democratic National Committee and governor of the influential state of Virginia.
He emphasized that more than 400 million dollars worth of products from Virginia have been sold to Cuba over the last decade, and that he hopes to expand trade, given the new environment created December 17, 2014, when Presidents Barack Obama and Raúl Castro announced their intention to reestablish diplomatic relations between the two countries.
A 2000 law opened the possibility of agricultural exports from the U.S. to Cuba, but restrictions have remained in force, including the requirement to pay for purchases in advance, in cash, with no access to credit. Under these conditions, Virginia has sold Cuba soy beans, apples and meat products, among other goods.
McAuliffe insisted that work must be done rapidly to lay the foundations for the elimination of restrictions on bank credit, which, he noted, is available to all other trade partners from around the world.
He likewise expressed his support for a Senate bill sponsored by Jeff Flakey (R-Arizona) and Patrick Leahy (D-Vermont), to end prohibitions on travel by U.S. citizens to Cuba.