Brazilian artists took the streets and demanded that the interim government restores the Culture Ministry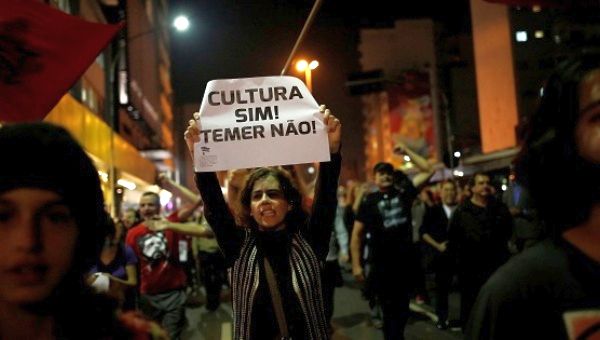 The Senate-imposed government of Michel Temer announced the closure of several ministries as soon as it took office, including the Culture Ministry.
Thousands of singers, actors, painters and other artists took to the streets of Brazil, under the slogan of "Out Temer, bring back culture."
They occupied the Culture offices of 18 cities in the country, and the organizers of the protests called for young people to stay in the streets until Temer's government reopened the ministry.
The team behind the Brazilian film Aquarius during the international film festival Cannes protested the coup in Brazil.
Temer's government had created a Culture Secretariat Office inside the Ministry of Education in an attempt to contain the protests.
Suspended President Dilma Rousseff criticized the measure during a meeting with youth and the former minister of culture.
"A National Secretariat of Culture will not have the ability to meet the demands and cultural needs of the population. It doesn't have the necessary tools to take into account the breadth and complexity of the Brazilian cultural structure," said Rousseff.
Starting Monday the ministry will operate again under the leadership of Marcelo Castro as minister.
Taken from http://www.telesurtv.net/english