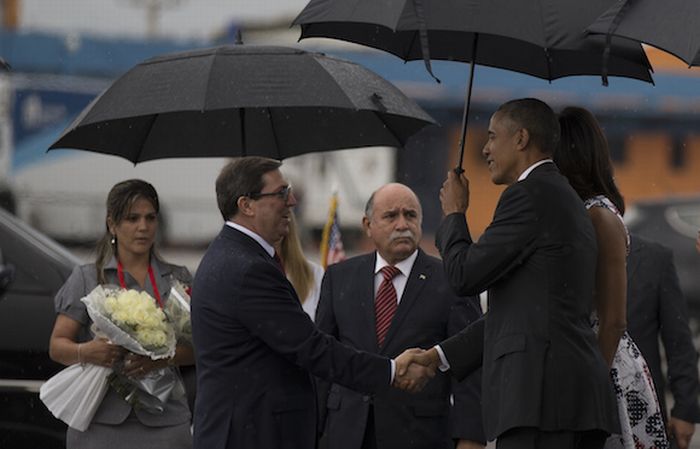 US President Barack Obama arrived in Havana today, thus becoming the first president of that country to travel to the island after the triumph of the Revolution in January, 1959.
Obama was welcomed at the José Martí International Airport by Cuban Foreign Minister Bruno Rodríguez Parrilla, Cuban Ambassador to the U.S. José Ramón Cabañas and the Charge d'affaires of the Embassy of the United States in Havana, Jeffrey DeLaurentis
Official Biography of the President of the United States
The head of state will stay in Cuba until next March 22 in compliance with an official visit, true milestone in the diplomatic relations between the two countries re-established on July 20, 2015.
According to announcements from Washington, Obama's entourage is composed of the Secretary of State, John Kerry, six senators and 20 members of US Congress, among other personalities.
This historic event is a key element in the process of normalization of relations between the two countries started on 17 December 2014. That day the President of the Councils of State and Ministers of Cuba, Raul Castro Ruz, and President president Barack Obama simultaneously reported the determination to restore diplomatic relations, unilaterally broken by the northern country on January 3, 1961.
The first US president to travel to Cuba was Calvin Coolidge, who arrived in Havana in January 1928, to attend the VI Pan American Conference, sponsored by dictator Gerardo Machado.