A guayabera shirt that belonged to renowned tobacco producer Alejandro Robaina, from the western Cuban province of Pinar del Río, was received in the House of the Guayabera, in Sancti Spiritus, central Cuba.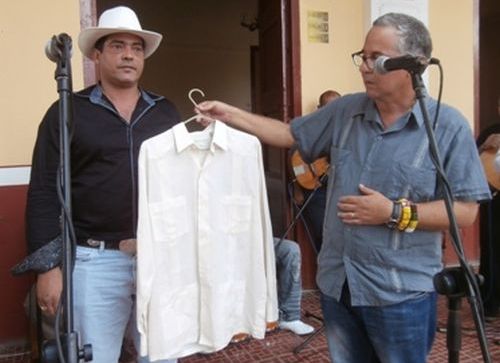 His grandson Hiroshi Robaina came to this city to deliver the beige long-sleeve shirt, the number 209 of the collection kept in this House. When interviewed by ACN, Robaina said it was a real pleasure that an item owned by his mythical grandfather, who passed away in 2010, would be part of the history of the nation, and would be kept together with other garments from important personalities.
He also said it was very difficult for him to remember when his grandfather used this guayabera specifically. Robaina was very fond of this kind of shirt because its many pockets make it very comfortable for cigar smokers.
Hiroshi Robaina is a continuation of the family tradition and is also considered an experienced producer, after "having lived" about 20 crop campaigns.
He remembered that, since smoking is not allowed on airplanes, his grandfather always wore guayaberas when travelling in order to carry tobacco leaves to chew while flying.
During his visit to the House of the Guayabera, Robaina met with tobacco producers from Sancti Spiritus, the island's second tobacco grower after Pinar del Río.
Finally, Hiroshi said that of the nearly 30 cigar brands in the country, only Hoyos de Monterrey and Vegas Robaina are known by their original names. Alejandro Robaina is the only Cuban that in life gave his name to a brand of cigars.
Taken from ACN, and translated by Escambray (Aracelia del Valle). Photos: Lisandra Gómez Guerra.