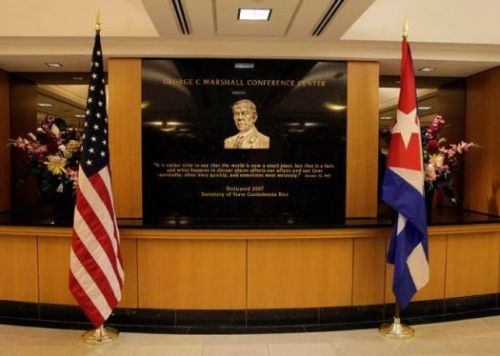 The announcement of the rescission of Cuba from the state sponsor of terrorism list in which it was arbitrarily included in 1982, by the Ronald Reagan administration, has been great news during the last few hours around the world.
President Obama had already submitted to Congress his decision of withdrawing Cuba from the despicable list, and the legislative body has already made the decision.
Cuba Rescinded from State Sponsor of Terrorism List
But for the Cubans living in the island, what had to happen has indeed happened, and the U.S. government simply accepted what for long has been a truism: Cuba doesn't shelter terrorist people, nor supports those who do this practice.
Reagan's arguments to include Cuba in such list were really fragile, but were obviously meant to pave the way for further wrongful acts.
The pretext —it is worth noting— was the alleged political and medical support provided for members of the Colombia guerrilla, as well as the confirmed asylum granted to members of the Euskadi Ta Askatasuna Basque separatist group, who were against the Spanish State. These were just temporary humanitarian issues that have nothing to do with harm on people or properties nowhere.
In this respect, it could also be said that U.S. authorities constantly incurred in absurd situations in an attempt to keep Cuba in the abovementioned list.
Many examples could be cited. One of them was introduced in January 2014 by The Washington Post, due to a failed terrorist attempt that had occurred in the Christmas of the previous year, which included —as a result— the instruction for special controls to people flying from certain Arab, African and Asian countries. The Cuban island was among those nations.
The U.S. journal said that when going over the list of countries, one could immediately realize there was a name that didn't fit: Cuba, and went on giving facts which are still valid.
Similar examples have published more and more by U.S. media, as well as by other countries', apparently due to a rational evolution of events, because the truth, sooner rather than later, would prevail.
The answer to the whole problem reveals that it was just a political decision based on an arbitrary and unfair practice, which has finally been placed in the dump of history, where blockade will definitely be sent as well.