Venezuelan officials handed a formal letter of protest to the US embassy in Caracas on Friday to reject the White House's recent executive order calling Venezuela a threat to national security.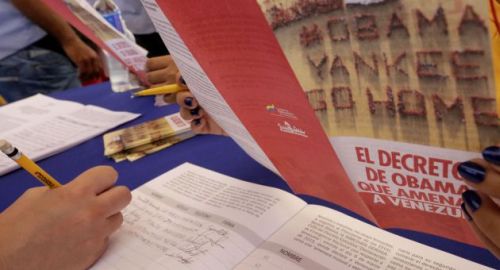 Venezuelan Foreign Minister Delcy Rodriguez announced Friday that the note had been delivered. Rodriguez also stressed that Venezuela has tried several diplomatic measures to mediate with the U.S. government and convince them to repeal the order.
However if U.S. officials continue to reject mediation attempts, the foreign minister said Venezuela will not rule out using legal procedures to change the U.S. decision, including appealing to international law.
The foreign minister also reminded officials of the international support that Venezuela has received from various regional bodies, including CELAC, UNASUR, ALBA, and the G77 + China, among others. These organizations have all rejected the U.S. sanctions against Venezuela — punitive measures, which violate international law.
"This should allow the government of the United States to reflect. Look at a map, a map that shows the whole world is telling the U.S, its government and its administration to cease aggression against Venezuela," said Rodriguez in a speech, showing a world map that highlights countries that have spoken out against President Barack Obama's executive order.
Countries standing in solidarity with Venezuela also demand the U.S. respect the integrity of sovereign states, open political dialogue, and understanding between nations in order to find non-violent solutions to the tensions between the two nations.